From the summary of Daniel's piece:
My Surface Duo is now my life secretary. When I open it up, I see not just my latest notifications, but a list of all my emails and important alerts (via BlackBerry Hub and Email), my week's calendar appointments, and current info. Any Android phone can simulate that experience, but it's the dual display and design that makes it feel better. It's an excellent organizer for those who deal heavily with information, schedules, data, and management.

Speaking of the BlackBerry Hub+, Microsoft should create a unified inbox experience for all your significant apps (Teams, Skype, Slack, Telegram, SMS, etc.) like that one. BlackBerry always had a knack for mobile productivity like its privacy shade. I wrote in 2018 how BlackBerry and Microsoft should team up, and I still think that's the case. At the very least, emulate them, Microsoft.

I also enjoy the ability to close Surface Duo like a book, allowing me to focus more on my writing and work instead of always looking at my phone.

However, my review's conclusion hasn't changed in the last three months. Surface Duo is still a "dual-screen phone of tomorrow that's not quite ready today." It's just now slightly better.

But the only real thing I was concerned with was the concept of Surface Duo and if it was a breakthrough or a gimmick. I can report that it is the former. It's still not a device I would tell regular consumers to buy, but it is one to watch going forward.

What Microsoft does with Surface Duo 2, which we expect could launch in late 2021, will be fascinating. For now, I'm hooked on the idea of dual screens regardless of the (dwindling) flaws. I'll check back in on how Surface Duo three months from now, and hopefully, we'll have Android 11 and some more improvements and features.
But do go and read the whole review.
Do see also my round-up of the initial Surface Duo reviews (including Daniel's own) and a brief write-up of some of the hardware issues that have... surfaced.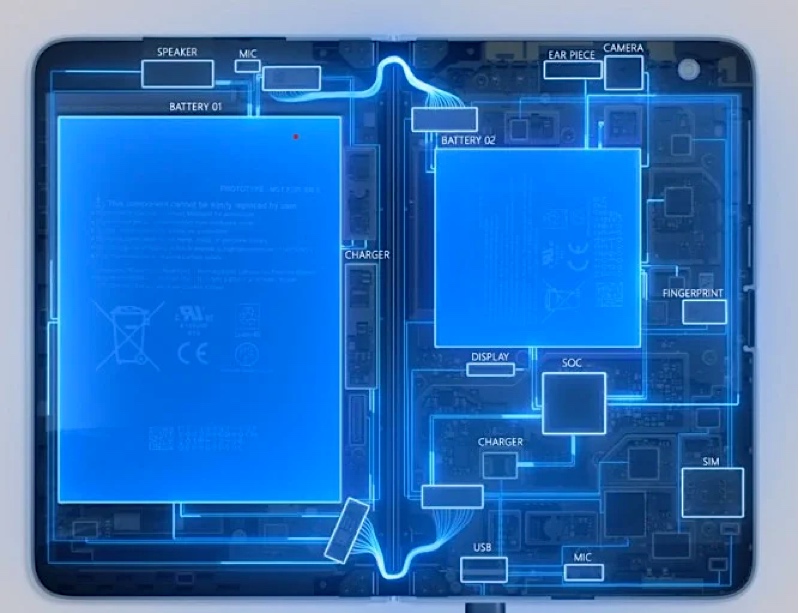 For completeness, just in case you missed the previous coverage, here are the Surface Duo specs:
145 x 187 x 5mm opened, 145 x 93 x 10mm closed
250g
Android 10 (upgradeable to 11)
4G, Wifi to 'ac', Bluetooth 5
Nano SIM + eSIM

2x 5.6" 1800x1350 4:3 AMOLED Gorilla Glass displays
Snapdragon 855 chipset, 6GB RAM
128GB or 256GB UFS 3.0 storage (the latter possibly $1499), no microSD expansion
Mono speaker, no 3.5mm jack
11MP camera, f/2.0, PDAF
Fingerprint sensor (on the edge of the right hand phone half, see the graphic above)
3,577mAh battery (total, split across each half)
18W fast charging
Surface Pen supported but not included
The showstoppers for me personally remain the appalling camera, the single weedy speaker, and the unsuitability of the form factor for watching media.