From the post:
Since introducing Surface Duo in August 2020, people have asked when we would make this product available outside of the US. We're pleased to share that in early 2021, we'll be offering Surface Duo in Canada, United Kingdom, France and Germany.

With Surface Duo, we set out to unlock new levels of mobile productivity and reduce the need to reach for a larger screen to complete quick productivity tasks. With enhanced Microsoft 365 apps, productivity can take place across two distinct screens, enabling true multi-tasking. Whether viewing your Outlook Mail and Calendar side-by-side or seeing your colleagues and the presentation simultaneously on Teams, the magic of Surface Duo is the intersection of hardware and software in the palm of your hand.

...Over these past few months, we've delivered app enhancements, software and Android security updates, and improvements to the Android platform at-large. Microsoft is the third-largest Android ISV in the world, and we're proud of what we've been able to deliver since August. Customers have enjoyed hundreds of improvements to our first-party Android apps, benefiting anyone using Microsoft applications on Android. This ensures a healthy future for this dual-screen category and a stream of improved, delightful experiences for Surface Duo customers.
You can register interest in this, thanks to:
Sign up to be notified when Surface Duo becomes available: Canada | United Kingdom | France | Germany.

Obviously there's no mention of European pricing, but I'm guessing £1200 in the UK. Which, for the specs, will still be outrageous.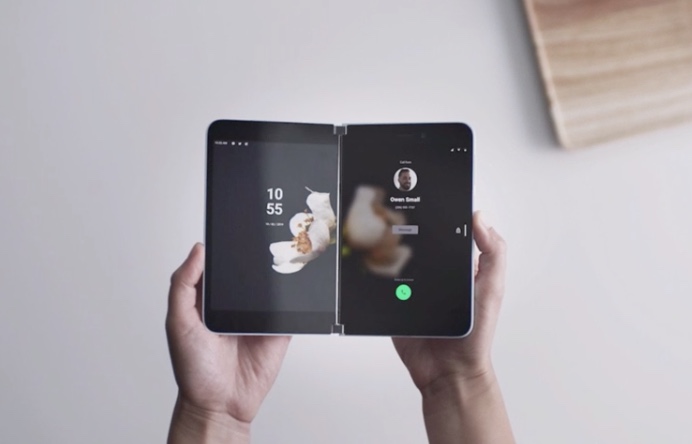 For completeness, just in case you missed the previous AAWP coverage, here are the Surface Duo specs:
145 x 187 x 5mm opened, 145 x 93 x 10mm closed
250g
Android 10 (upgradeable to 11)
4G, Wifi to 'ac', Bluetooth 5
Nano SIM + eSIM

2x 5.6" 1800x1350 4:3 AMOLED Gorilla Glass displays
Snapdragon 855 chipset, 6GB RAM
128GB or 256GB UFS 3.0 storage (the latter possibly $1499), no microSD expansion
Mono speaker, no 3.5mm jack
11MP camera, f/2.0, PDAF
Fingerprint sensor (on the edge of the right hand phone half, see the graphic above)
3,577mAh battery (total, split across each half)
18W fast charging
Surface Pen supported but not included
I've said that I wished this still ran Windows 10 (Mobile), but the more I look at the specifications (mostly the camera, it's true), the more I think we'd all have been mightily disappointed. Oh well.
PS. Some of our previous Surface Duo coverage here: