So yes, OnePlus has confirmed in a series of emails that the OnePlus 9 will be launched globally on the 23rd. Plus it is partnering officially with Hasselblad, since it's highlighted in the promo email: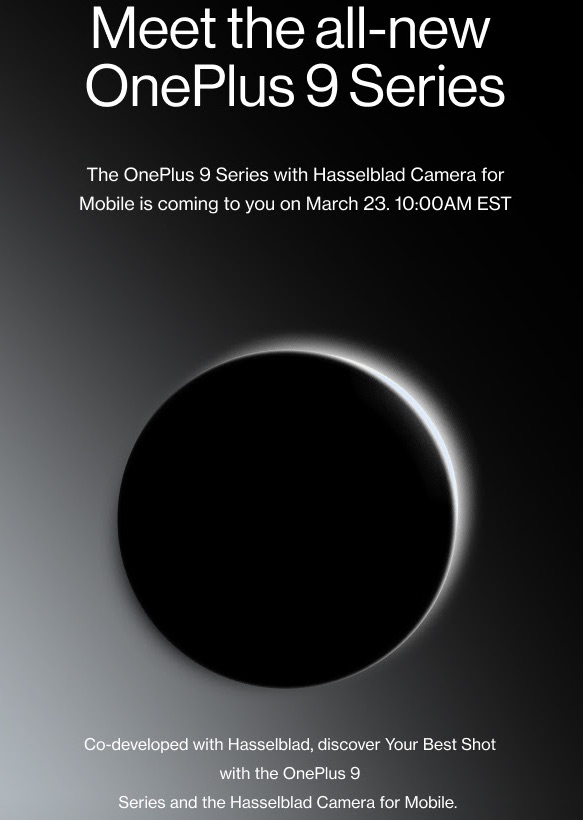 The Hasselblad partnership doesn't come as a complete surprise, but other channels are now reporting that OnePlus has entered into three years of partnership with Hasselblad and is expected to spend more than $150 million for developing new features.
Camera maker interaction in phone development has varied over the years - ZEISS used to make the physical lenses in Nokia smartphones in in the 2000s, while in other cases it's more a branding and association exercise, along with (perhaps) a dedicated application or shooting mode. Obviously the former is more desirable - in this case I don't believe that the Hasselblad partnership has been going long enough (less than a year) to have incorporated hardware expertise. Leaving a shooting mode, with Hasselblad approved colours and filters.
Which is better than nothing, but the proof of how good the OnePlus 9 Pro's camera will be is when I get hands-on for shooting test scenes. I don't expect this to beat out the current all round imaging champion, the iPhone 12 Pro Max (in ProRAW mode), but we've long since got past the point where phone cameras are good enough for the mainstream, even for enthusiasts.
OnePlus CEO Pete Lau said "OnePlus has always prioritized a premium user experience over everything else. Beginning in 2021, we are making a concerted effort to significantly improve the smartphone camera experience for our users, with the expertise of a truly legendary partner in Hasselblad."
The use of the word 'experience' is telling here - implying again software rather than any increase in quality at the hardware level due to Hasselblad's involvement.
The OnePlus 9 series will showcase the OnePlus 9, OnePlus 9 Pro, and OnePlus 9E. The OnePlus 9 and OnePlus 9 Pro will be powered by the Snapdragon 888, paired with (an over the top) 12GB of RAM. Plus 65W fast charging, FHD+ display with 120Hz refresh rate, and a quad Hasselblad-branded rear camera cluster.