From the Google Maps team:
With the state of the pandemic varying across the globe, the new normal looks different depending on where you go. But no matter your situation, Google Maps has your back with new tools to help you navigate and explore as safely as possible.

It's no surprise that transit ridership took a drastic plunge during the early days of the pandemic. While people are returning to public transit — with transit directions on Maps increasing 50% compared to last year in the U.S. — safety remains top of mind. That's why we're expanding transit crowdedness predictions to over 10,000 transit agencies in 100 countries so you'll know if your line is likely to have lots of open seats, hit full capacity, or be anywhere in between. With this information you can decide whether you want to hop on board or wait for another train. Because pandemic or not, no one likes standing in a jam-packed subway car.

These predictions are made possible through our AI technology, contributions from people using Google Maps, and historical location trends that predict future crowdedness levels for transit lines all over the world. All these predictions were designed with privacy in mind. We apply world-class anonymization technology and differential privacy techniques to Location History data to make sure your data remains secure and private.

In New York and Sydney, we're piloting the ability to see live crowdedness information right down to the transit car level. This feature is powered by data from agencies like Long Island Rail Road and Transport for New South Wales, with more cities coming soon.

So how is transit crowdedness trending across the U.S.? New York City, Atlanta, San Francisco, Boston, and Washington D.C. lead the pack as some of the cities with the most crowded lines. Nationally, you're most likely to get a seat at 9 a.m, whereas cars may be standing room only between 7-8 a.m. In the evening, leaving earlier than rush hour will up your chances of grabbing a seat, with lines being far less crowded at 3 p.m. than they are between 4-5 p.m.
There are a number of animated walkthroughs, such as this one: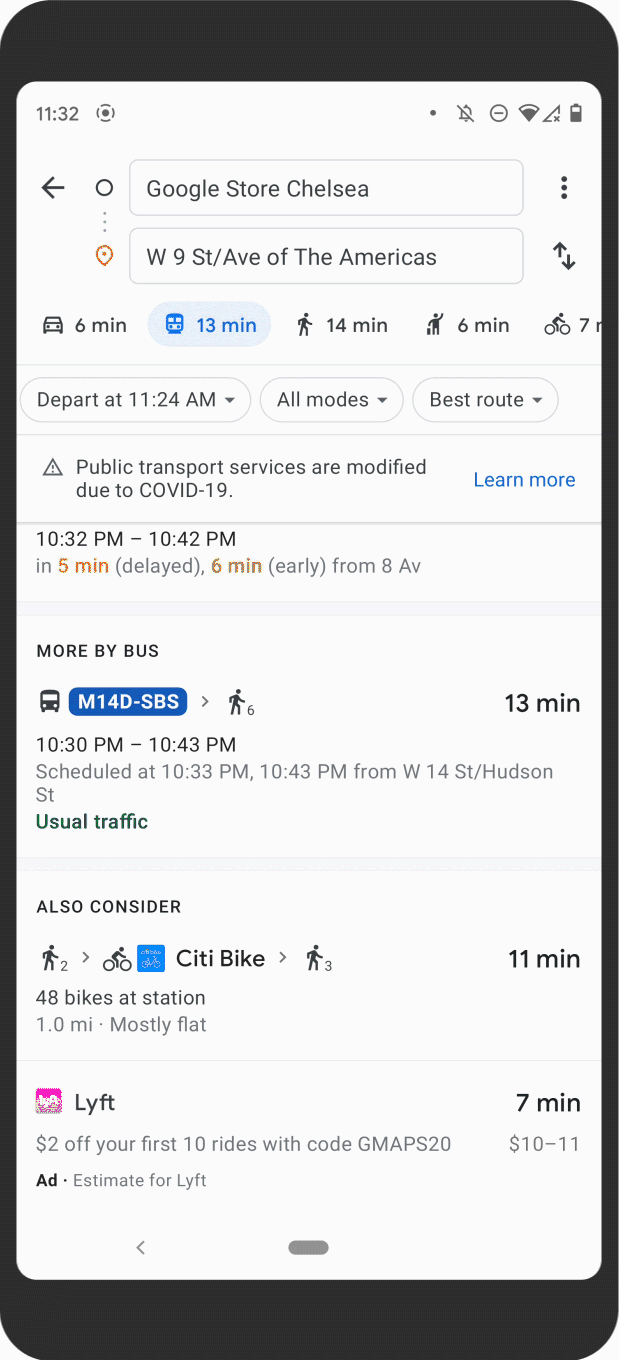 There's more in the Google post, including logging your various modes of travel , looking back on past trips (remember those, when we were allowed to travel??), and leaving more detailed reviews.
All good stuff, Google Maps on iOS and Android is the de facto best way to travel, I contend, especially in terms of 'live' information.
PS. This being cross-posted on AAWP, note that none of this is in the various third party Google Maps clients. At least, not yet.