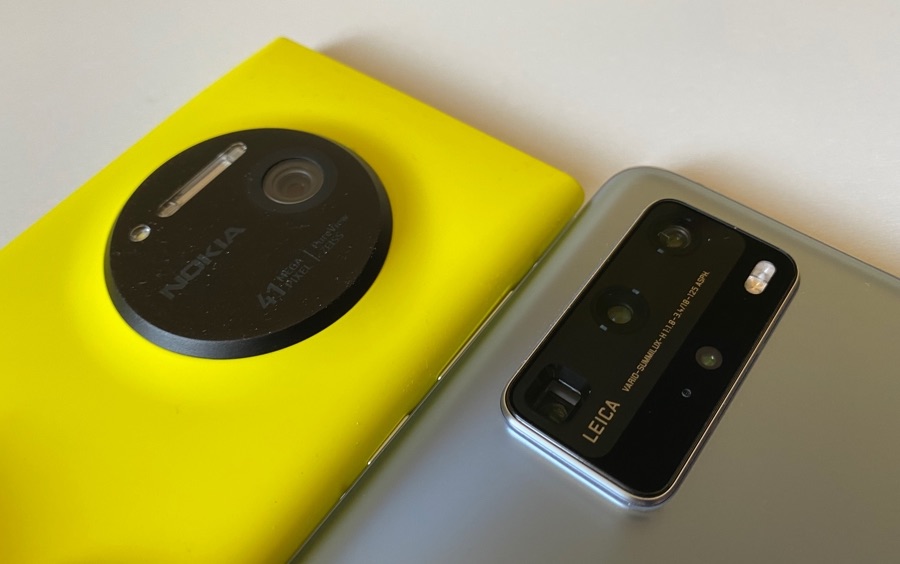 You'll remember that I already did an entire feature looking at still imaging on these two phones? Resulting in a tie - somewhat amazing considering the 1020's age!
A brief reminder of the specs:
Microsoft Lumia 1020
Huawei P40 Pro

Single camera:

41 MP, f/2.2, 1/1.5", contrast-AF, OIS

Xenon flash plus LED video light

Main camera: 50 MP RYYB, f/1.9, 1/1.28", omnidirectional PDAF, OIS

Periscope camera: 12 MP RYYB, f/3.4, PDAF, OIS, 5x optical zoom

Ultra-wide camera: 40 MP, f/1.8, 1/1.54", PDAF

Dual LED flash
As usual with video content, click through to YouTube for best effect, resolution, etc:
Tests above:
Walking, sunlight
Zoom testing, sunlight
Zoom testing again, sunlight
Shooting as close as would focus on each device (dandelion)
Night time pan and zoom
Night time, illuminated subject, zoom test
It's a testament to the Lumia 1020 that, for a seven year old smartphone, its camera system still produces video that can be on par with the best of 2020. Under certain conditions - when you don't need to go above about 3x zoom and when you're not walking or running!
And as with still imaging, there's a weak spot in the zoom range on the P40 Pro when shooting video - at 1080p here it cuts to the periscope lens at about '6x' zoom, but from about 3x to 5x the video image has a lot of digital artefacts - as you'd expect, given that you're then beyond 1:1 on the high resolution sensor. The Lumia 1020 just stops at 'the PureView limit'. Which is a slight cop-out, but also sensible. The P40 Pro has to carry on, because it has to join up with the periscope zoom.
In very low light, the output from both phones isn't great when zoomed, as you'd expect - there's just not enough light to go round.
My aim here is to compare the very best of Lumia video capture to the best of 2020 imaging phones - regardless of whether the latter is Google-centric or Huawei/Microsoft-centric, and see here for my thoughts on this! I still think the P40 Pro isn't a bad shout for a geek who loves imaging, Microsoft and a little software DIY!
But your comments welcome.