In brief, Windows 11 is Windows 10 - Microsoft even refers to the '11' builds by the usual '21H2' naming convention for Windows 10. The internals of the OS are identical, even some of the old Windows XP controls and dialogs are still there if you dig down into Settings. But, building on the 'Sun Valley' fiasco experiment, there's a facelift for much of the interface and a general reorganisation of controls, icons, and notifications:
Centred Start menu and taskbar
Rounded corners and transparency effects (think Windows Vista's Aero)
Dynamic Refresh Rate (DRR)
New Ink Workspace
Direct Storage
Auto HDR
Improved snapping
No 'tablet mode' - instead the interface subtly adjusts for touch as needed
Support for (a few) Android apps through Amazon Store
New Action Center
Start menu Widgets
Better Teams integration
Here's the Windows 11 'sizzle' reel:
Plus there's a focus ('Raising the security baseline') on not running when there's not enough security available, with a requirement for an enabled TPM (Trusted Platform Module - v1.2 or 2.0). Which might already be running on your PC under Windows 10 (if it's not, you can enable it in your BIOS).
There's also a new Microsoft Store client, though this should also come to Windows 10. The new client should enable a wider range of applications to be sourced in the Store, including classic x86 applications that have their own in-app purchases (previously forbidden). The old Store is/was clunky at times, so I'd welcome a smoother experience - for both OS versions.
Something and nothing, everything and 'meh'? Opinions range quite widely, though a week after the announcement, the shine is starting to come off for yours truly, not helped by none of our house's current laptops and Windows 2-in-1s being 'supported' for Windows 11. Eh? What?
As a starting point for the range of viewpoints, I was struck by a couple of WC editorials last week. Firstly, from Robert Carnevale:
It's the morning after. I've woken up beside Windows 11, and, frankly, it doesn't look all that attractive anymore.

What I'm saying is, I don't agree with the fuss over the new OS, even as someone whose primary job here is to discuss Microsoft news on a site with Windows in the name. The operating system is, as an industry analyst whom I spoke with yesterday called it, a "marketing moment" for Microsoft. From where I'm sitting, it's nothing more than a mild facelift that is being used as an excuse to draft the media into manufacturing consumer interest...

Windows 11 will not change much of anything for the vast majority of users. You will still be able to quickly boot up your machine, open a browser, and watch porn. Nothing of value will be altered for 99% of the people set to use Windows 11 in the near future.

Oh, but Skype is being ditched in favor of native Microsoft Teams integration! That'll change everything! ... Except for, it won't. It's another Microsoft product that'll let you call people to talk about brunch plans. A slightly different interface is not going to unravel the yarn that ties our society together.

That sums up the entirety of Windows 11 at the moment, as far as I'm concerned. A few tweaks to its style and functionality do not warrant changing the name from Windows 10, similar to how going to the salon to spruce up your look does not warrant changing your legal name and address...
He's got a point, you know. All the additions and tweaks are nice, they're iterative improvements, but the only one that would improve my PC life is the touch-first interface tweaks so that my Surface Go and Surface Pro would work better as tablets. Everything else is either not useful to me or comes under the category of 'Oh, this has changed, where's the button gone now?'
On the other hand, on the same site, Sean Endicott penned:
I respectfully disagree with Rob and others that hold the same opinion. I believe that Windows 11 does matter and that it's okay to be excited about it. Even before Windows 11 was officially announced, people around the web incorrectly called the new operating system nothing but a facelift...

As a quick note, I'm aware that some of these features, like the new Microsoft Store, will also be on Windows 10, but they are shipping with and were made with Windows 11 in mind. Other features, like Dynamic Refresh Rate, are exclusive to Windows 11...

While it's clear that Windows 11 is more than a facelift, for the sake of argument, let's say that the only changes it had compared to Windows 10 were cosmetic. Isn't that still a good thing? People have complained about the inconsistent hodgepodge of Windows 10's UI for years. Even if an update just addressed that, it would still be nice.

When Apple announces an update like macOS Big Sur or Google announces Android 12, many of the highlights are cosmetic. Those updates also have new features, but plenty of people welcome improvements to their user interfaces. It's a good thing when companies listen to feedback. Modernizing Windows, unifying its look across the OS and apps that run on it, and refreshing its design are good things.
It's also interesting reading the comments on both pieces, of people who have jumped on the Insider Preview and are disappointed, usually because the interface is not as flexible (yet) as Windows 10. In fairness to Microsoft, lots of this will return as Windows 11 builds get improved.
But if the goal is just to get back to how good Windows 10 was, then why not... just stick with Windows 10?
I get the appeal of 'shiny, shiny, new' but in this case I think you really have to have a use case that needs one of the new features. Perhaps a dual (large) monitor set-up, to make use of the app tiling/grids? Perhaps intensive gaming (auto-HDR, DirectX 12 Ultimate, etc.)? Perhaps heavy use of Teams, which is more tightly integrated in '11'? Away from these situations, pretty much all you're left with is, indeed, a UI facelift, I contend.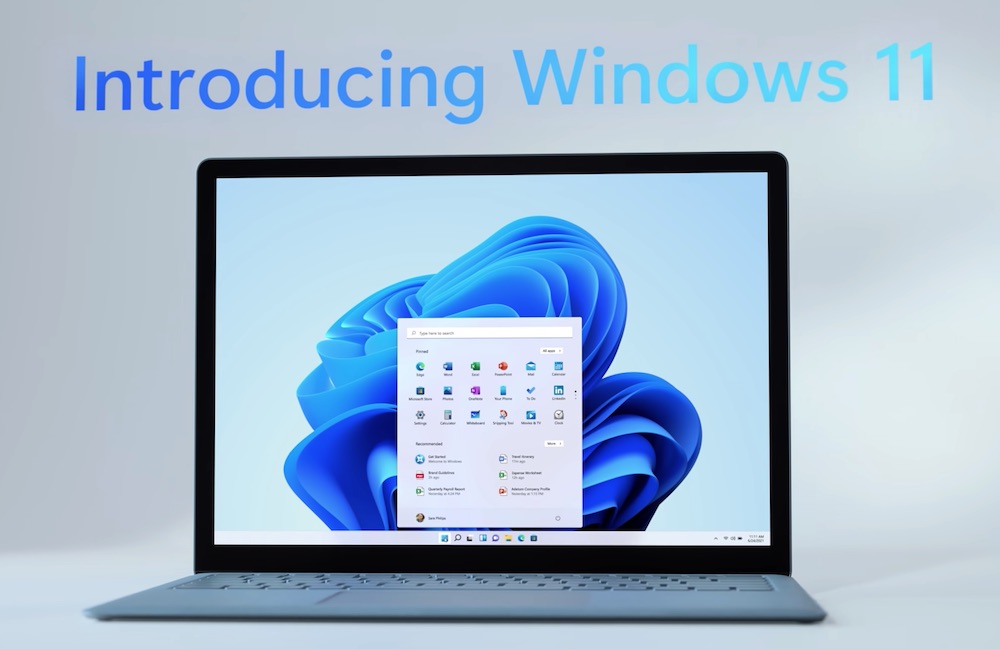 Actually getting on the Insider Preview even if your PC doesn't meet the minimum specs required by Microsoft doesn't seem too hard. If you've been an Insider in the past then you're in, plus there's a hack if this doesn't work. However, Microsoft's wording isn't clear on what will happen in terms of build availability through the programme if your PC isn't up to spec or exactly what will happen when Windows 11 formally launches. I hope the transition from Preview to Release will be smooth, but there's also a chance that 'Your PC isn't fast enough, click here to return to Windows 10' will pop up.
In short, I've been dithering on whether to throw caution to the wind and work around Microsoft's own spec recommendations for Windows 11. After all, it's just '10' under the hood, so surely it will run just fine? The OS itself will, perhaps even better as it's more optimised (apparently). But all the Windows Vista-like semi-translucent panes with graphical effects? You'd like to think that in 2021 our machines are fast enough to render all these, but Microsoft's being very cautious about which processor generations they will and won't support for Windows 11, so maybe more oomph is needed after all? Can the translucencies be turned off, as we used to do back in 2007, to improve Windows' speed? Who knows.
At the time of writing, I haven't installed Windows 11 via the Insiders programme on any device - my gut says that I won't gain anything meaningful on my two Surfaces or our family laptops, and I might well lose functionality. I/we'd welcome comments - what are you thinking?
PS. Did you see that arch Windows hacker Gustave got Windows 11 running on a Lumia 950 XL?