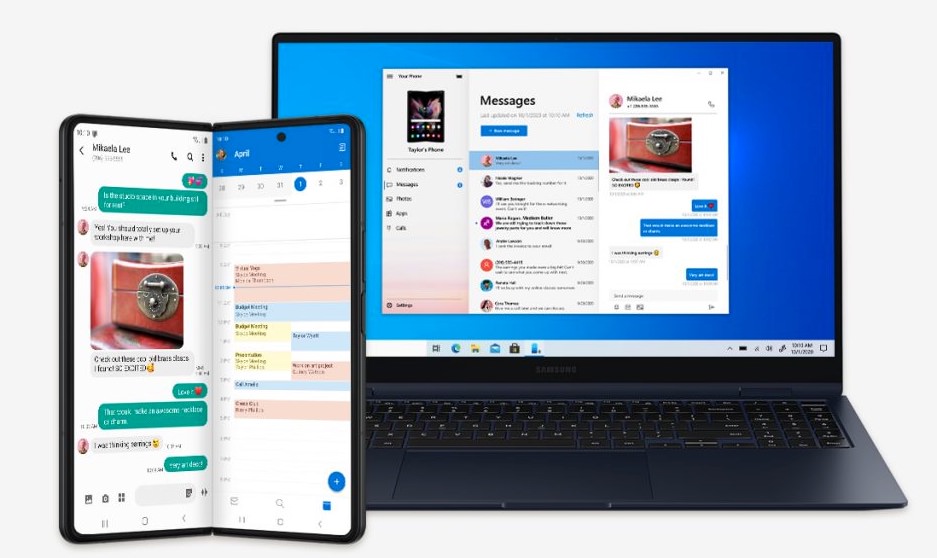 Illustration from Microsoft, though note that the actual Z Fold 3 doesn't have a selfie camera cutout - the camera is under the screen glass!
From the Microsoft blog post:
The company's partnership with Microsoft, which delivers a seamless bridge between Windows PC and mobile devices, has also expanded to further integrate Microsoft Office, Teams and Outlook into the smartphone experience.

For instance, when you unfold a Galaxy mobile device, you can see a presentation in full-screen detail and the faces of your co-workers on the Teams call underneath. Also on that Teams call, pull up the Whiteboard and draw what you're explaining on the board with an S Pen. With Microsoft Outlook's dual-pane mode for Galaxy devices, you can read a full email while previewing others on the side, just like on a desktop.

"With the Multi-Active window, you can run multiple apps at the same time," says Patrick Chomet, executive vice president, head of Mobile Products & Experiences at Samsung. "For example, you can open Microsoft Excel and PowerPoint and easily drag and drop a table right into your presentation. Now, you can even run two instances of the same app."
Which is all a bit mind-blowing when you consider that the Samsung Galaxy Z Fold 3 fits in your pocket. You can get a lot of the Microsoft Office experience on existing Android and iOS smartphones, but it does seem as though the functionality takes a leap upwards when you've effectively got tablet-class screen real estate to play with.
I'll test all this more if and when I get the Z Fold 3 in for review for All About Mobile and The Phones Show.
PS. See also the related Z Fold 3 UI promo video from Samsung, as a lot of the productivity features here will appeal, I think: