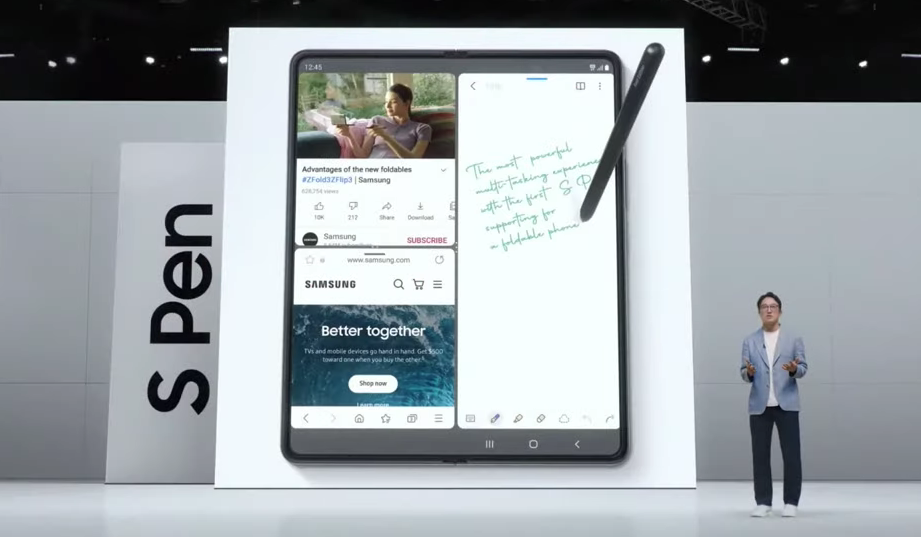 The big worry for the S-Pen's introduction to folding screens was durability, of course. In addition to the tougher outer layer and the softer(!) S-Pen, I did note that Samsung still couldn't make a folding display whose digitiser spanned the 'crease' (because a stylus would cause damage there if too much force was applied), so they are using two separate digitisers, one for each screen half, and then using clever software to work out S Pen movements across the small 'gap':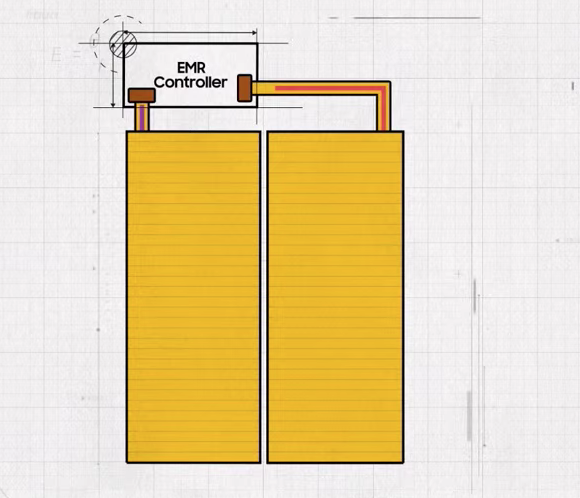 In terms of specs, see Samsung's infographic for the Z Fold 3: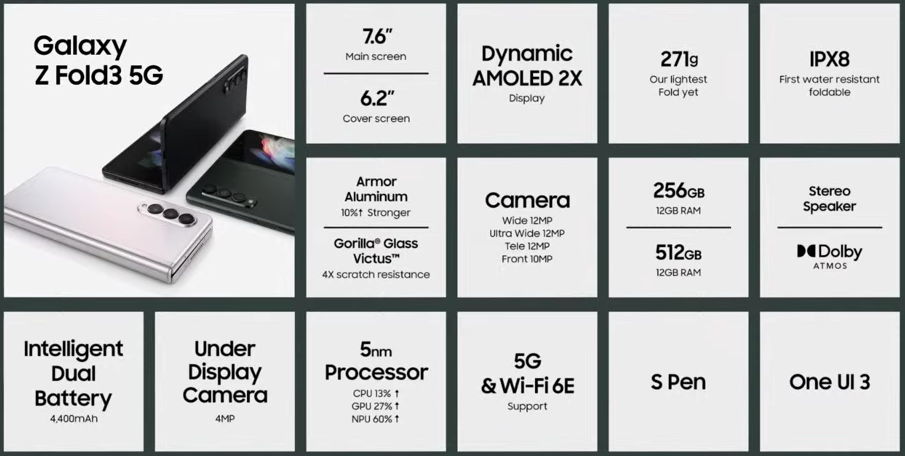 Impressive across the board, though you have to really want that 4:3 tablet mode, since an existing monoblock Samsung will do most other things better. Even the cover screen here is 6.2", which will deliver as good a widescreen media experience as the internal screen (which has top and bottom 'bars'). The Fold series remains a fairly tough sell, though note the price has come down since last year, now starting at £1600 rather than almost £2000.
The three big new things here are, of course:
IPX8 water resistance. This is a must on a modern smartphone, so I'm delighted that Samsung finally 'got there'. Gone are the days when you worried about your phone when it rained or when in a damp pocket, let alone a quick drop into the bath or pond. However, note that the necessities of mechanical hinges mean that IPX8 is achieved through nano-coating the internals. So 'dirty' or salty water will still do damage long-term. Also, note the 'X' bit - that's the dust-resistance rating and it's non-existent - so be extra careful about dirt and dust around the hinge end caps. Maybe using this at the beach isn't such a good idea after all.
The under-display camera, giving a much cleaner look on the Z Fold 3 - though don't expect ground-breaking results from this, light-wise. It's still very early in under-screen camera development.
The S-Pen support, though you'll need the new 'softer' S Pen, not the existing hard plastic versions. Early buyers will get a free case with an S Pen slot, but otherwise you'll have to carry this accessory separately and try not to lose it!
I'm sure Samsung's testing has been rigorous and that the S Pen/folding screen combination will stand up, in the short term at least. My worry is that real world users don't flex folding screens and use pens in a clean room. Give the combination time for dust and dirt and grease, along with a wide range of atmospheric conditions, and then come back to say how pristine the Z Fold 3 is.
As ever, all the NDAs just expired and there's a mountain of video material for you to binge on, if you do desire. Here's Michael Fisher's take on the two devices:
And, for reference, here's Samsung's official highlights video for the Z Fold 3 and Z Flip 3:
All very interesting, though expensive. If either of these become available to UK reviewers then we'll cover these more.
For completeness, here's the equivalent spec panel for the Z Flip 3, which won't appeal quite so much to geeks like us, I suspect: