My series 'Anatomy of a Lumia photo' (here's #1) has proved popular, even though I cheated with the HP Elite x3 instead for #2. #3 had a lovely clock, #4 was all about framing, in #5, I got down and dirty with nature, in #6 I had a rosy dilemma to solve, and in #7 I took a satisfying low light snap in appalling weather. In #8, I got extremely close to an impressive moth, in #9 Andrew Elliott was in Budapest at night, in #10, I was shooting in early morning sun, in #11, I shot 'wide', with a little help from Panorama mode, in #12 I kept repositioning and zooming until I got a water fountain just right and in #13, Jeff Appleton got a good look at The Northern Lights. Then, rounding off the series for its previous run (in 2017) was #14, looking at a glowing tower.
Resuming in 2019 and widening the series out to photos from any smartphone, here's #15, looking at framing a waterfall and pond, #16, steaming to the seaside with angles and perspectives, #17, 'Remembrance', creatively shooting a Remembrance Day display at night, in #18 I returned to the graveyard featured in #18, but this time with oodles of December fog to add atmosphere, in #19 I went walking in a Bluebell wood, and in #20 I used a lens trick to overcome shallow DoF.
This time around I was faced with a nice view that I've tried to make genuinely cinematic. Here's the end product, so you get a feel for what I imagined at the point of capture: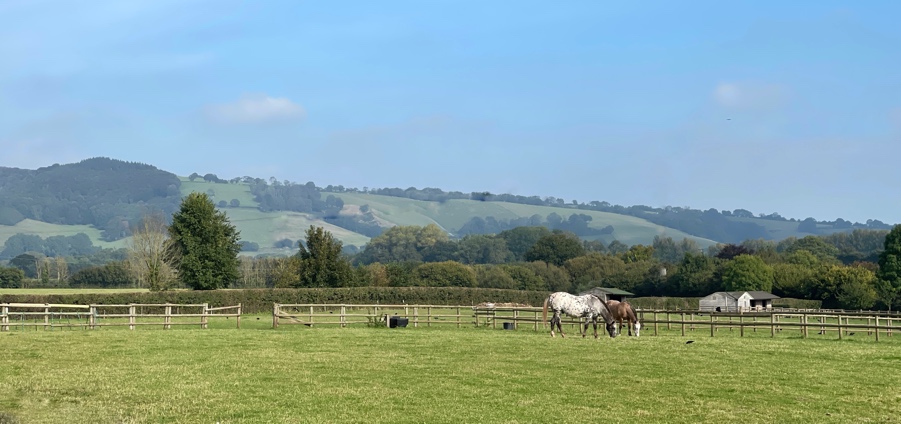 Although hardly the most dramatic landscape in the world, it's a nice shot of the Quantock hills in rural Somerset in the UK, complete with several layers of visual depth, and a couple of horses to add interest. Well, I like it. But it's not exactly the scene that my eyes took in.
This is the regular main lens shot on my iPhone 12 Pro Max, mimicking what my eyes saw with a 'normal' viewing angle (note that I tend to shoot most things in 16:9 since the aspect ratio appeals to my sensibilities):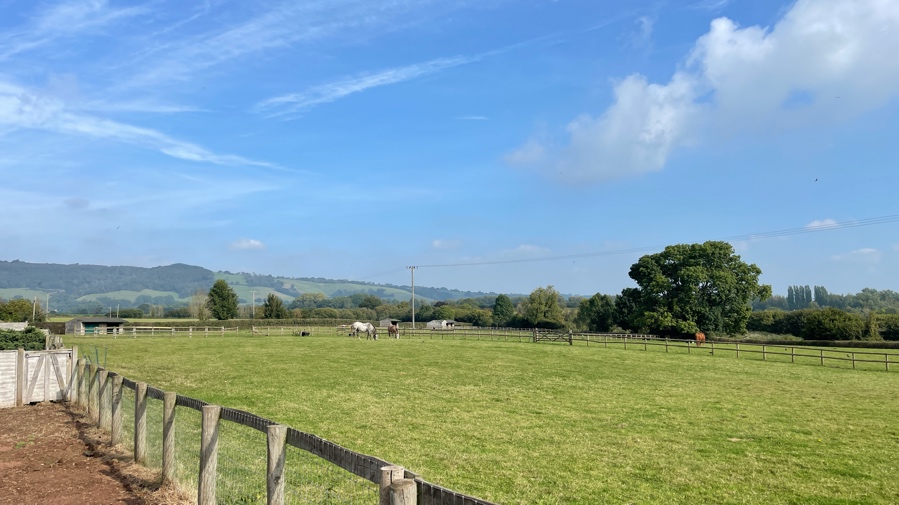 The fence backs onto a neighbour's garden and I couldn't get closer or into the field from where I was. So this scene is about all I could get with a phone main lens. Note also the telegraph poles and wires, somewhat spoiling the view for a photo (and countryside) enthusiast like me.
Step one was to use the phone's (2.5x) telephoto lens, partly to get closer to the horses and partly to restrict the framing to the central hills. Here's the full 16:9 telephoto shot: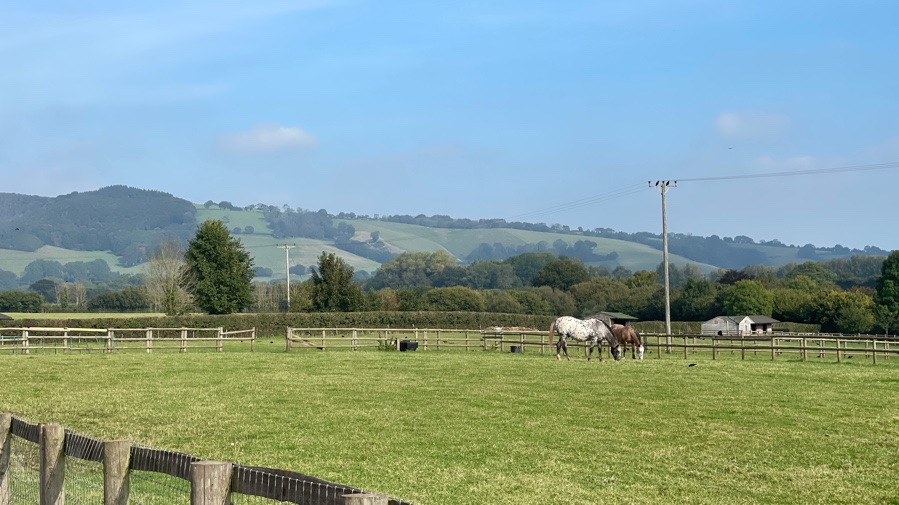 We're getting there, I think. I far prefer this framing, and still at original (9MP) resolution thanks to using a telephoto lens. However, those telegraph poles/wires, and indeed the fence at the bottom left of the frame, all distract from the beauty of nature.
When I mention the word 'cinematic', most people think of an aspect ratio wider and shorter than 16:9, and for good reason. Cinema frames are often 21:9 or similar. And a little light cropping at top and bottom of frame to bring the photo to about 21:9 will also help get rid of the fence. So I cropped on the phone, to give: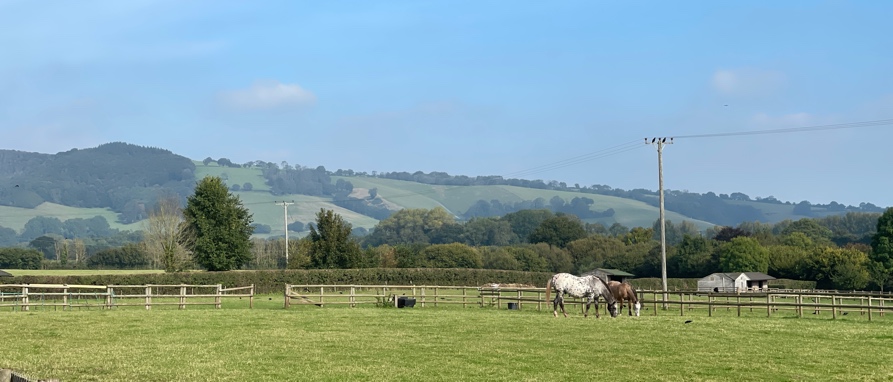 This is still at 7MP so there's still plenty of detail, happily. The photo is almost there, but I'm going to use Snapseed, a free photo editing tool bought up by Google some years ago - it works on Android and on iOS to perform veritable magic.
In the 'Tools' menu pane in Snapseed is 'Healing' and as the name suggests, well defined objects can be 'healed' out of a photo. Typically this might be a person in the background or a fence post. You use two fingers to zoom (and pan) into the appropriate part of the frame and then draw over the object (with a red virtual translucent marker pen) to be 'healed' away: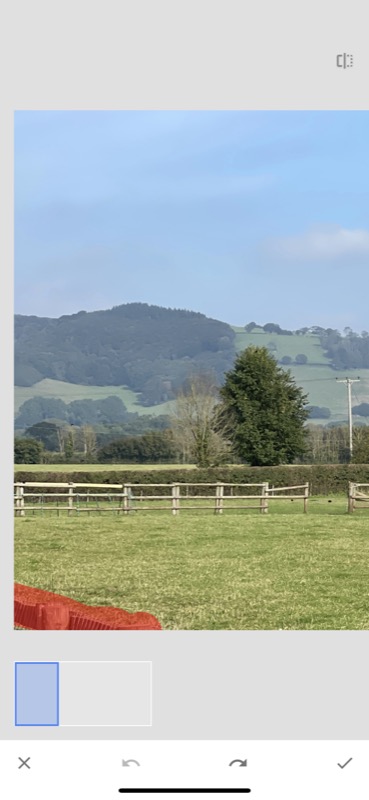 Hey presto, the fence portion is gone, replaced by patterns of the green grass around it. True, the detail there isn't 100% real, but as it's in the corner of the frame, no one will notice. More tricky are the fence poles and wires - because these are quite thin, they're fairly easy to 'heal' out, but it's fiddly to zoom to each section of these and draw accurately over them.
Still, a few minutes later, I had the 'healed' - and final - shot, which I'll repeat again here for convenience: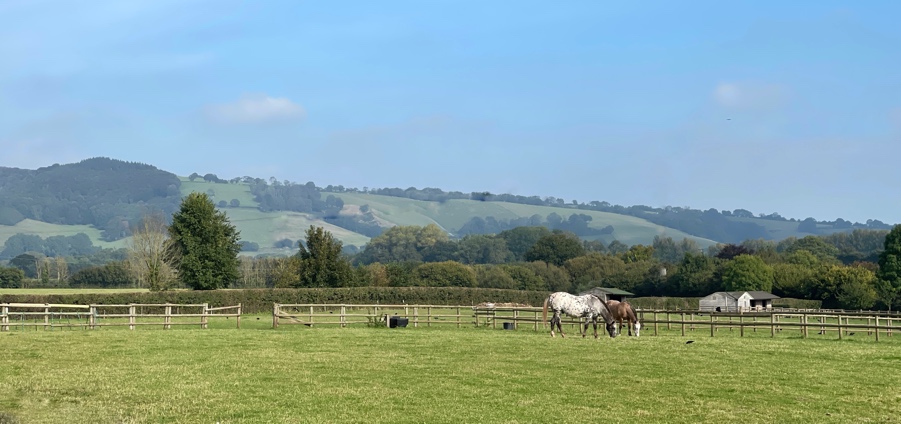 At first glance you really couldn't tell that I'd removed telegraph poles and wires, and I'm very happy with my rural shot.
I'm also happy with the frame tightening that occurred with my switch to the telephoto lens, so don't forget this as a framing option if your phone also has such a lens. The full photo is here if you want to grab it and examine it at the pixel level - there are artefacts where the healing took place, but you have to look quite closely!
Thanks for reading, these photo walk 'stream of consciousness' articles do seem quite popular. Hopefully I've inspired you to head out and snap away for yourself, indeed the very act of analysing my own shots help improve my own abilities, I've found.
If you'd like to contribute a shot or sequence of shots then please get in touch.