Review:
Surface Go vs Surface Laptop Go
Whether a fan of Windows (for AAWP) or Mobile in general (for AAM), one thing you'll have been keeping an eye on from Microsoft is their affordable ultra-mobile PCs, the Surface Go range and Surface Laptop Go. Despite the headline, this isn't as easy as a simple A-B comparison, since each is available in a surprising number of variants - thus, I'll try a compare using broad strokes and concentrate on giving a flavour of what each is good at.
Away from smartphones, then, the thought of doing as much as possible while carrying as little as possible should hopefully appeal. It did to me and I've been mulling over which (affordable) ultra-light PC is better for a while. So with a Surface Laptop Go joining the family (via my wife's work), I was able to do a hands-on, as well as a specs, comparison for the first time.
Why Surface? Good question, since there are dozens of viable ultra-light notebook brands - but I think of Microsoft's Surface as being the highest end in terms of design and build, and with the backing of being made by the same company that's making the OS, i.e. Windows. So, despite the generally higher price tags, I usually look at, and recommend, Surface devices first (Surface Duo excepted - ROFL). They're the equivalent to buying Apple's Macbooks, but in the Windows ecosystem. In fact, they're arguably superior in many ways, not least the variation in price, size, and form factor.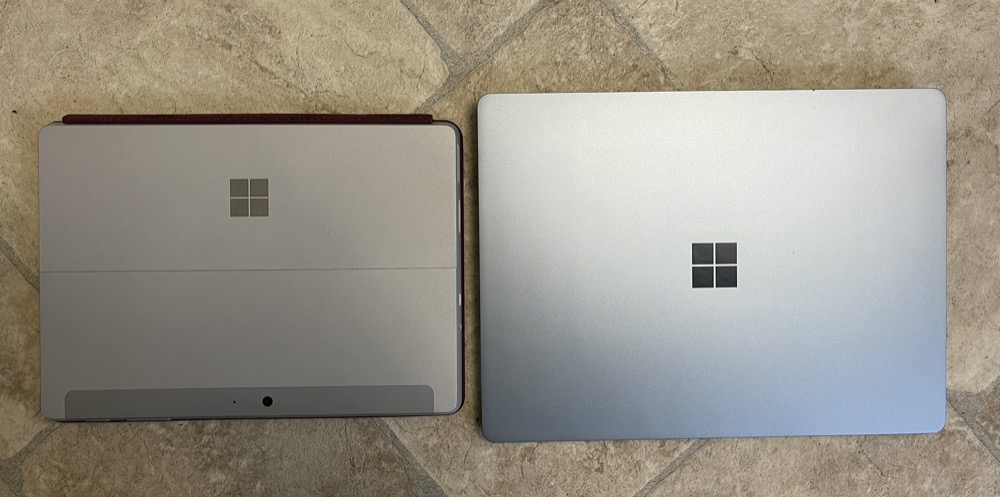 So, yes, comparing these two Surface ultra-mobiles, ultra-lights. The Go is available in original (shown in the photos here) and '2' forms, with three main hardware variants in each case (RAM/storage/chip), while the Surface Laptop Go similarly has three comparable spec levels. I'm ignoring the 4GB RAM/eMMC cheapest versions of each, since I'd always recommend 8GB RAM (minimum) and a proper (faster) SSD, and I'm ignoring any LTE versions in specific world regions. But do take the exact specifications in the table below with the caveat that it's best to triple check the exact variant you may or may not be buying.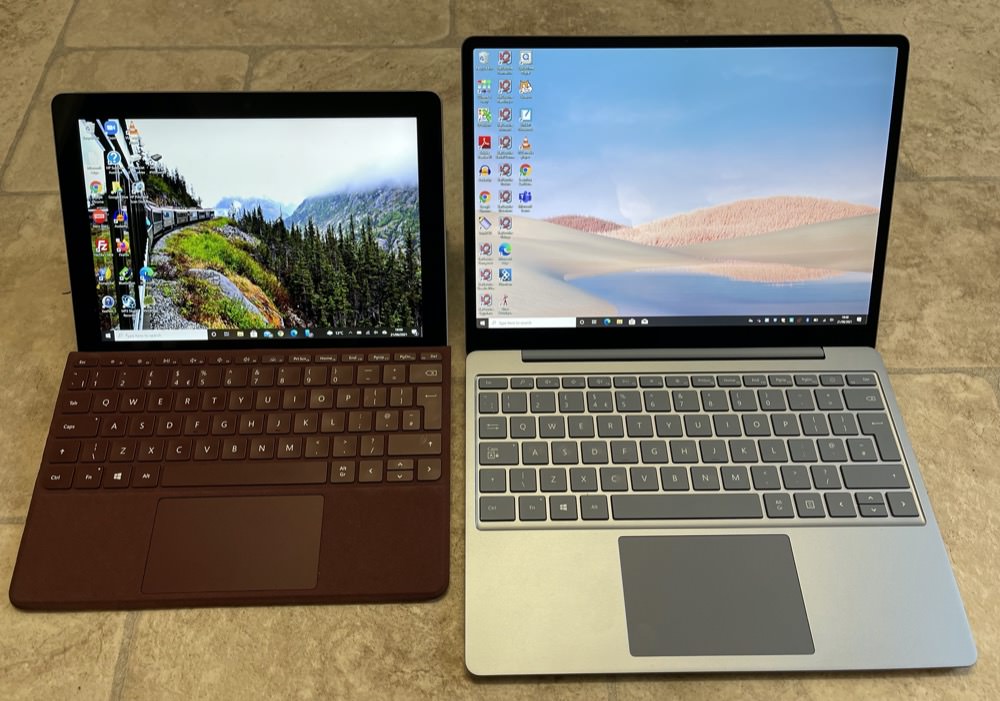 Noting that the original Surface Go isn't available anymore from Microsoft, you may question why I'm including it here. You'll have gathered from the photos that it's the Surface I currently rock and, in addition to the Laptop Go comparison, I'm also investigating the delta from the original Surface Go to the 'Surface Go 2' - is the upgrade from one to the other significant?
And so it's on to specifications - I'll come onto conclusions and opinions below. (If the table doesn't render fully, width-wise, on your mobile browser then please rotate your phone to landscape mode.)
(Typical variants)
Surface Go
Surface Go 2
Surface Laptop Go
Prices (approx, £, inc VAT)
£500 approx, refurbished or
clearance, including Type Cover
£630, including Type Cover
£579, on offer as I write this
Form factor
Tablet with kickstand and
add-on keyboard
Tablet with kickstand and
add-on keyboard
Laptop
Dimensions

245mm x 175mm x 8.3mm

245mm x 175mm x 8.3mm

278mm x 205mm x 15.7mm

Weight
0.5kg (plus Type Cover)
0.54kg (plus Type Cover)
1.1kg
Made from
Magnesium
Magnesium
Aluminium top
Composite resin base
Screen angles
Up to 165º approx
Up to 165º approx
Up to 135º approx
Display
10.0", 3:2, 1200p, touchscreen
10.5" 3:2, 1280p, touchscreen
12.4" 3:2 aspect, 1024p, touchscreen
Processor
Pentium Gold
Pentium Gold or Intel Core M3

Intel Core i5



RAM (recommended)
8GB
8GB
8GB
Storage (recommended)
128GB plus microSD
128GB plus microSD

128GB

Speakers
Dual 2W with Dolby Audio

Dual 2W with Dolby Audio

Omnisonic Speakers with Dolby Audio



Microphones
Mono Studio
Stereo Studio
Stereo 'far-field' Studio

Cameras
5MP front, fixed focus, 1080p video
8MP rear autofocus with 1080p video
5MP front, fixed focus, 1080p video
8MP rear autofocus with 1080p video

2MP(?) f2.0 front camera, 720p video

Ports
USB Type C
Surface Connect
Surface Type Cover pogo pins
3.5mm audio jack
USB Type C
Surface Connect
Surface Type Cover pogo pins
3.5mm audio jack

USB-A
USB Type C
Surface Connect
3.5mm audio jack

Sensors
Ambient light sensor
Accelerometer
Gyroscope
Magnetometer

Ambient light sensor
Accelerometer
Gyroscope
Magnetometer

Ambient light sensor

Comms
Bluetooth 4, Wifi to 'ac'
Bluetooth 5, Wifi to 'ax'

Bluetooth 5, Wifi to 'ax'

Battery life (quoted)
9 hours
10 hours
13 hours
Other features
Power, volume buttons
Windows Hello face authentication
Power, volume buttons
Windows Hello face authentication
Windows Hello fingerprint sensor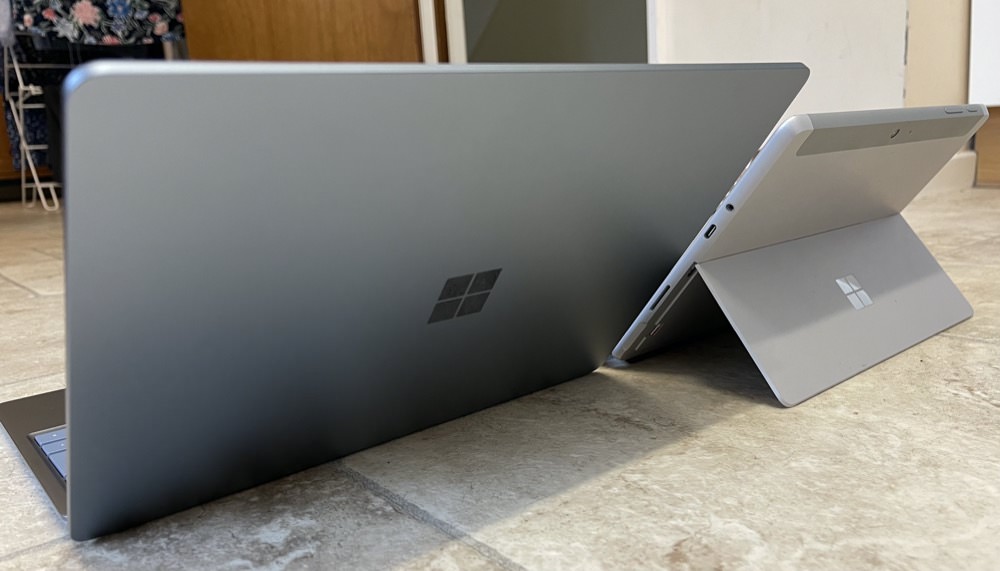 Compiling the specs table surprised me a little, not least that the Surface Go 2 was only a very minor improvement on the original - just a slightly faster chipset (and optional Core processor) and a slightly larger display, so definitely not worth the upgrade cost and hassle for me personally. But moving on, this feature is about the Surface Go range versus the Surface Laptop Go and, after a few hours hands-on, they couldn't be more different in use case and feel.
Which you wouldn't think, given the naming, the manufacturer, the software experience, the similarities in basic specifications. I realise this will sound obvious (given the name), but the Surface Laptop Go is much more of a... laptop!
Expanding on this, two years of using the Surface Go (pretty happily) have taught me that it's often faster to use the touchscreen to select things, launch applications, drag items, tap controls, and so on, than to reach down and use the (still excellent, 'precision') trackpad. Both are valid ways to control the UI, but touch always seems faster and more intuitive. Yet the opposite is true on the Surface Laptop Go, due to two factors:
the laptop form factor means that the hinge is at the bottom of the screen, so there's always some give/wobble, especially when trying to tap something in the top half of the screen. Don't get me wrong, the hinge is solid and reliable, but the laws of physics dictate that it can never be remotely as rigid as the Surface Go/Pro style kickstand and tablet form factor, where there's rock solid support across the whole screen. On the latter, even the lightest touch is registered and acted on, but on the Surface Laptop Go you have to press deliberately and carefully and often taking into account a millimetre or two of backwards flexibility and movement.

because the keyboard is so generally good on the Surface Laptop Go and because the device is physically bigger in all dimensions, it's far more tempting to use the trackpad, since it's always on-hand and the screen is further away.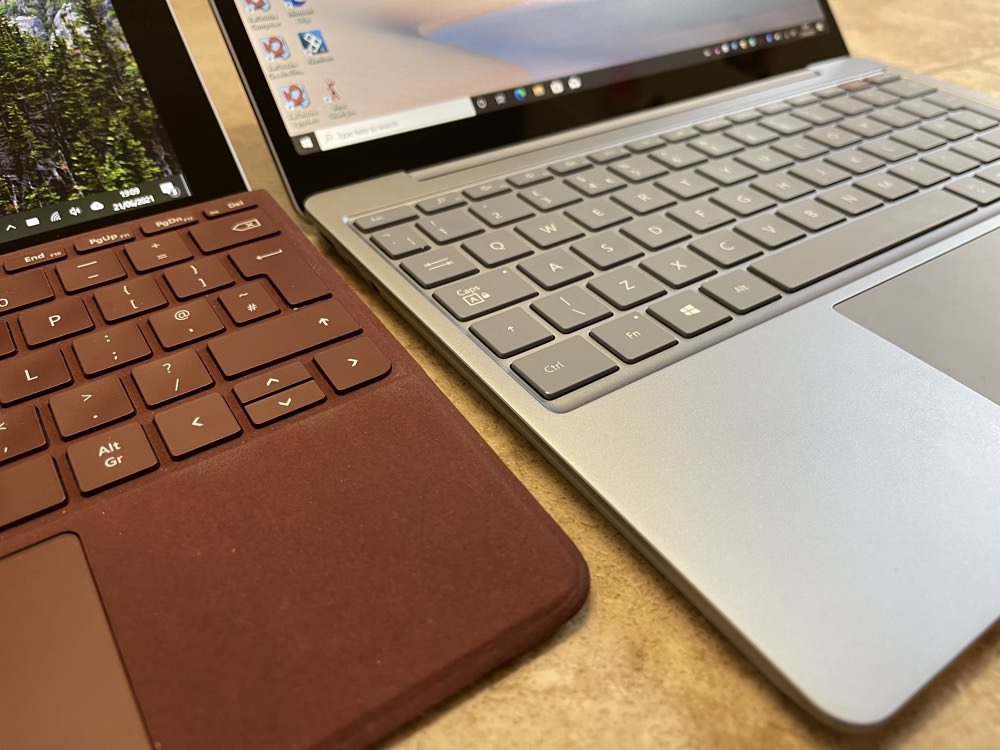 So the Surface Go (and larger Pro models) feel (as they should) like propped up touch-screen-driven tablet PCs that often happen to have a convenient keyboard and trackpad accessory snapped onto their front edges. All very functional but they never feel like a traditional 'laptop'. While the Surface Laptop Go, obviously, goes for the latter market and largely succeeds. If your use case is that you wanted a simple, light, and reliable laptop with 'pure' Microsoft software and no bloatware hassles, if you fancy having a mix of both USB Type A and C ports, then the Surface Laptop Go is an obvious candidate.
With one big caveat. One feature which, inexplicably, didn't make it into the Surface Laptop Go is a backlight for the keyboard. Just about every other competing laptop - plus the other Surfaces, including the Go here - has a configurable backlit keyboard, which dramatically improves the typing experience in dimly lit living rooms or when on a plane or train in the evening, perhaps. Now, the white on grey keys aren't invisible in the gloom, but they're harder to see than if they had been backlit. And I do wonder why Microsoft didn't at least make the keys darker, so that the legends stood out more.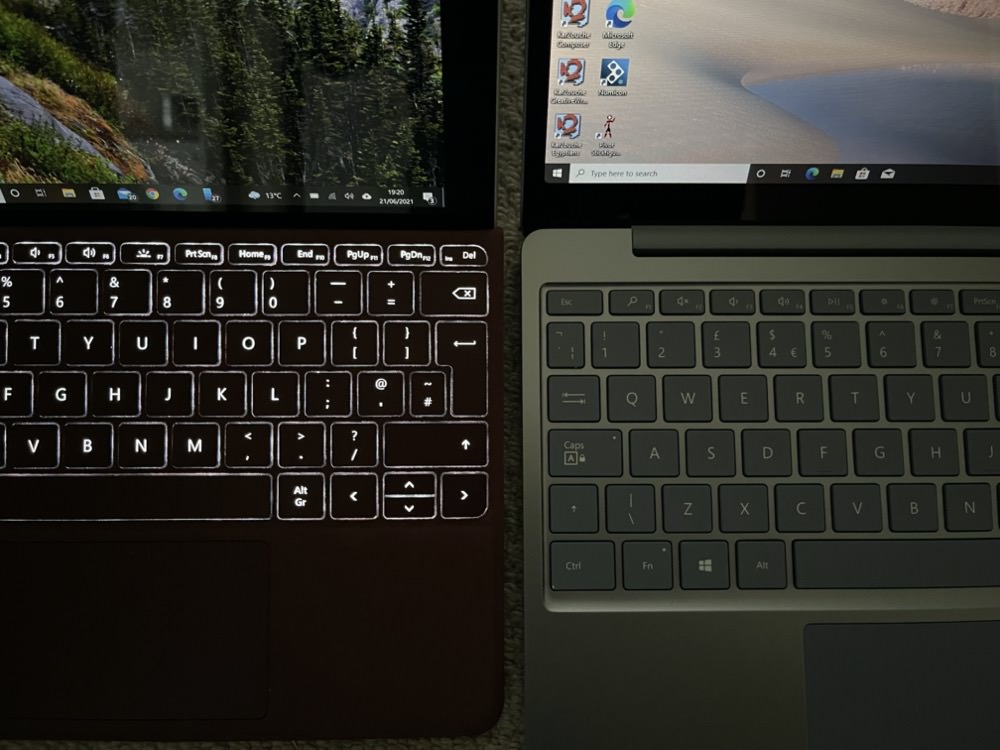 It should be noted that the Surface Laptop Go's main market is in schools and companies - evidenced by this example being provided to teachers at my wife's school for 2021. It's cheapish, robust, easy to administer, plus typical users will be typing in well lit spaces. So perhaps my gripe over the lack of keyboard backlight isn't relevant. But it's worth noting for private purchase and use.
Other notes about the Surface Laptop Go:
The extra screen size was very welcome over the Go's, though the hinge only allows about 135º of movement, enough for typical laptop use, but when sitting up in bed (e.g.) I do occasionally find the Go/Pro kickstand's ability to go much further back useful.
The stereo speakers are positioned under the keyboard, Macbook-style, which works better than you might think, and they seemed slightly louder than the Go's, despite the latter having the advantage of sounding out through direct grilles either side of the display.
The lack of rear camera won't be an issue for the target market - and even for private use, when was the last time you needed a rear camera on a laptop? So it's fine. On the Surface Go, I find the rear camera quite useful - in tablet mode it's like a big phone and I can do phone-ish things, such as posting to social media or capturing a display of some kind.
The materials used are well chosen - remember that a laptop has three surfaces plus the glass screen, while a 'tablet' like the Go has, effectively, only one. So here we get a metal (aluminium) lid and screen housing, but a 'resin' bottom half. In fairness, the resin used does a super impression of metal and it's only by testing the surface's temperature that you realise it's not. Two full width rubber strips along the bottom make sure that the Surface Laptop Go doesn't move, once placed on a desk.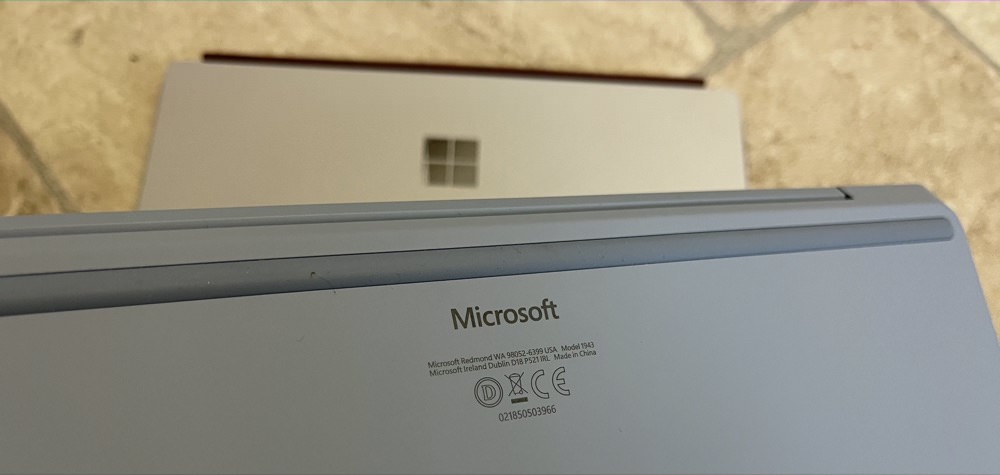 One of the few things I dislike about my Surface Go is that there's just the one USB port, and it's Type C. True, it's plugged into a dock whenever I arrive somewhere, but it's a pain for ad-hoc USB-A disk insertions. Thankfully, the Surface Laptop Go has both, so whatever connector you face, it's plug and play.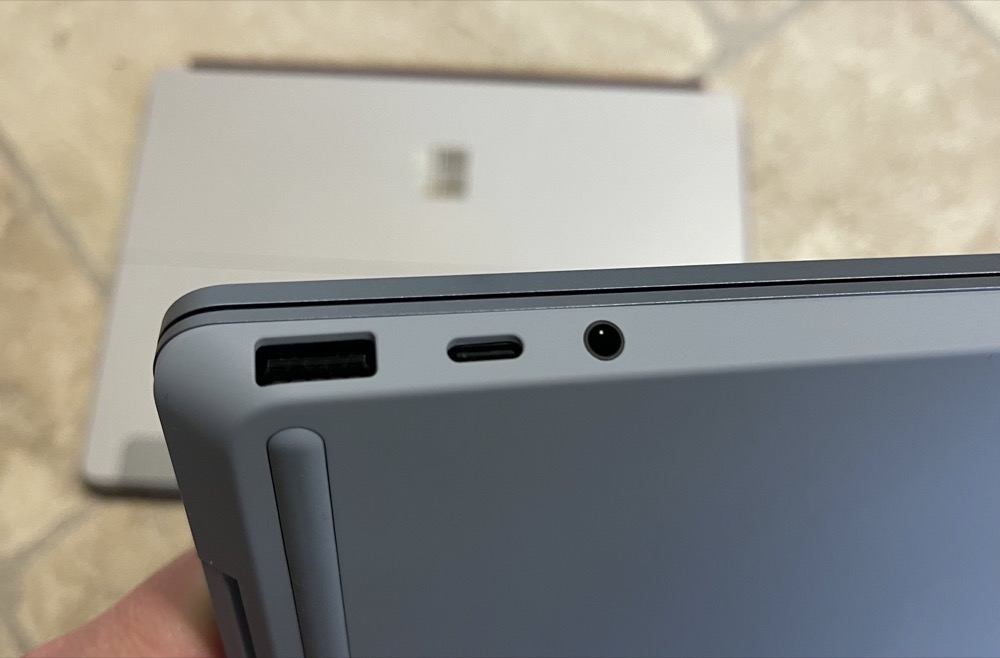 Having been through all the Bluetooth keyboard and lapdock/shell options in recent times, it's still refreshing to have a full and capable Windows PC in such small and light packages. If starting from scratch, the Surface Go 2 would be my pick because of the extreme mobility, better touch experience, and backlit Type Covers. But for anyone who wants a traditional, clamshell laptop, with touch being secondary, Microsoft's Surface Laptop Go is a great first party place to start.
Comments welcome of course - the Surface range also extends to the Surface Pros and Surface Laptops, but at significant extra cost. Did you buy any of these and how did you make your buying decision?
Reviewed by Steve Litchfield at