Review:
Soaraise 26800mAh (flying Type C/Lightning leads) Power Bank
Score:
85%
Reviewing smartphone accessories in the modern age is a frustrating business - as fast as something is reviewed then it seems to go out of production. This happened twice to my previous mobile power bank, the Aenkyo (née Ponsinc) 10000mAh with flying leads - and I can't find it for love nor money still for sale. But I cheered up a bit when this Soaraise alternative popped up as a lightning deal in my Amazon last week - with more then double the capacity and yet still two flying leads (saving having to carry cables around), this looked like it could fill a gap in my family's day to day facilities.
Buy Link | Download / Information Link
The design is certainly quirky, but then how else do you make something with flying leads that are robust enough to withstand regular use? It's an interesting challenge and one which 'Soarise' (probably an alias of another Chinese OEM, though a UK accounting company is listed as the UK source!) has met head-on.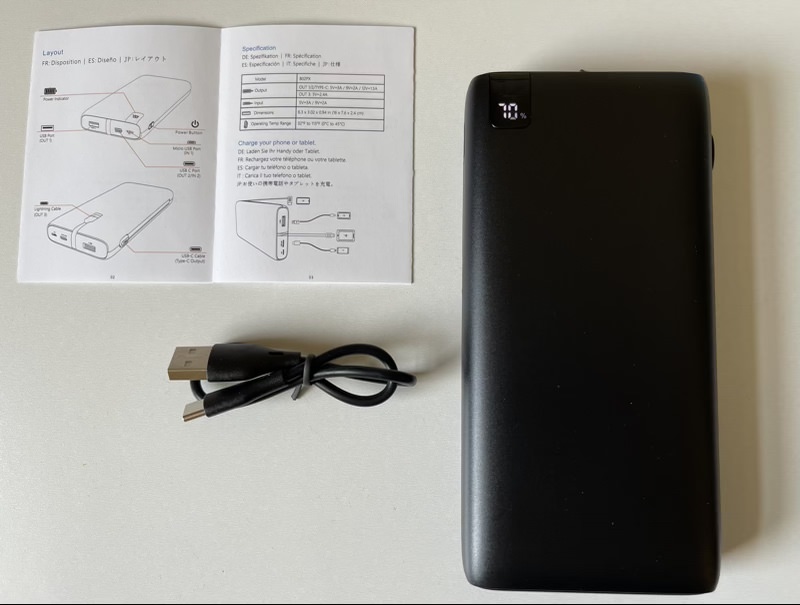 Don't worry about trying to read the port specs, I've got various breakdowns listed below, including a port/cable by port/cable approach. Which is needed, since there are no less than four wired ways to get power out of this meaty gadget.
In the hand it's the size of a large smartphone, but at least twice as thick and twice as heavy - but then we're talking about 26800mAh of capacity. That's at 3.7V, the Li-Ion cells inside, of course - as with all other power banks, you have to apply a 3.7/5 calculation to get delivered power at 5V, in this case 19,800mAh, but that's still enough to fully recharge even the largest modern smartphone four or five times. Or, in a family scenario, to keep all your partner/kids' gadgets charged and topped up on a weekend away when they forget to bring their own chargers or cables (which happens fairly often in most households).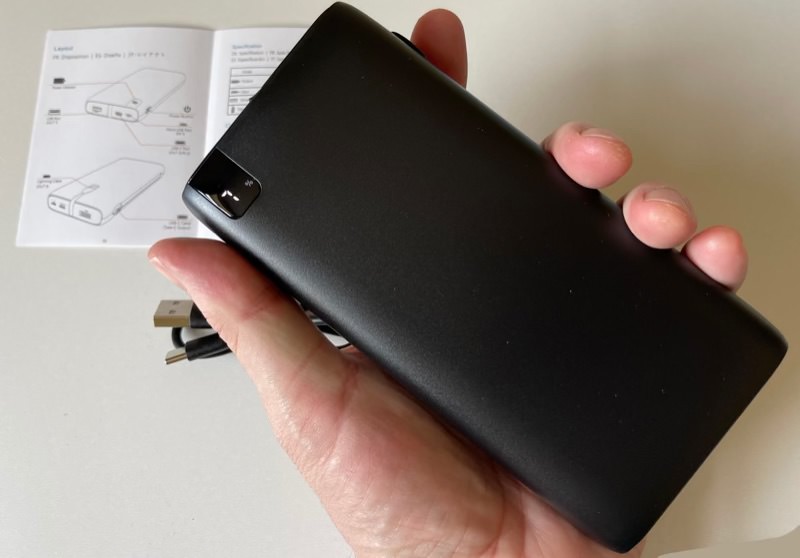 Given that I have a number of other power banks (well, I am a reviewer!), the reason I bought this design was to be equipped with something decent that had flying leads, i.e. I could hand this to a family member on a long trip and not have to worry about them losing their charging lead or, hey, forgetting to take it in the first place.
There are two flying leads, firstly the Lightning jack on a short, but quite tough ribbon cable. The idea is that it's long enough to insert into your phone while you use the two gadgets back to back. In practice this would be quite heavy, so hopefully on a lap!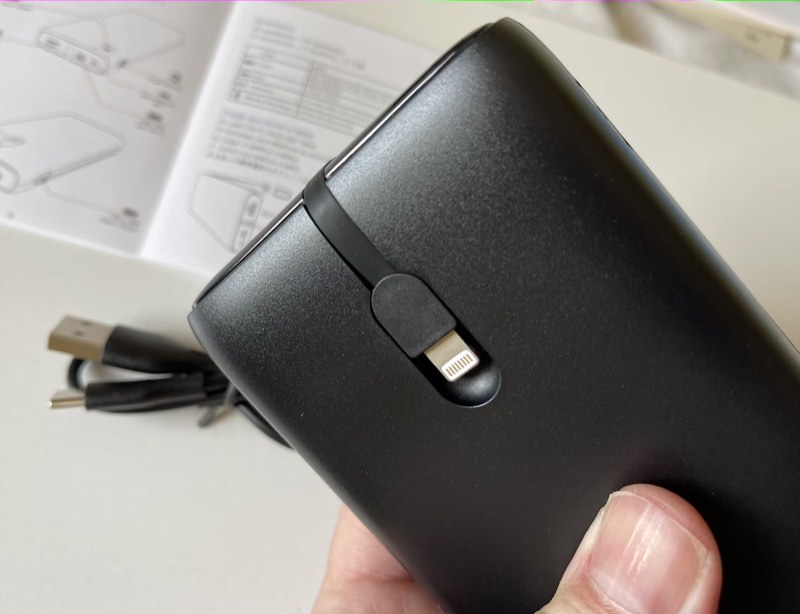 The connector stowage is just tight enough to remain secure, which is a nice piece of design, though of course, I'll have to report back after a year of use. There's also a flying and slightly longer Type C cable, which stows into a slot in the power bank's side: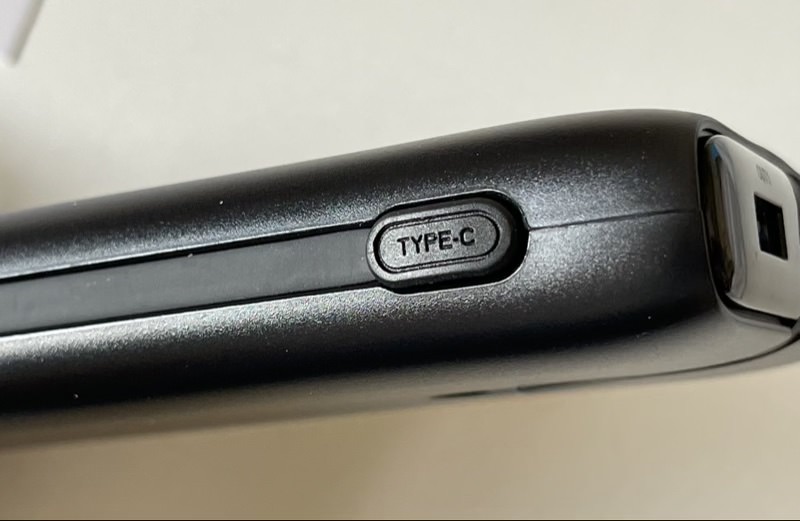 So by just taking the Soarise power bank with you, you've got leads to deliver the high capacity to either type of phone/tablet - iOS or Android. Which is pretty cool.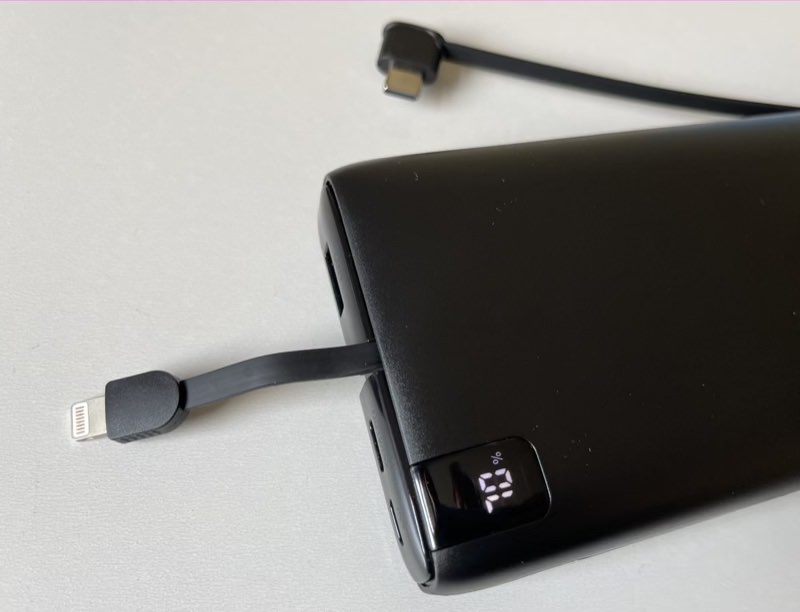 Of course, if you do have the right cables with you as well, then you could use these via the other outputs: USB-A (see below for all the specs) or USB Type C. The photo below makes the fit and finish lookk a bit rough, but part of this is down to reflections on the unnecessarily gloss, shiny finish of the power bank's ends. This would have looked a lot better in matt, plus wouldn't have shown up tiny day to day scratches.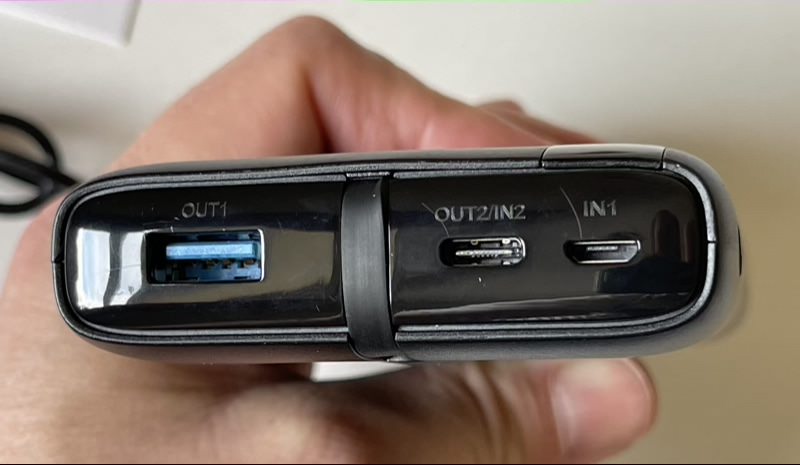 Glossy complaints aside, in the hand, the power bank feels very solid indeed. In terms of being a 'Swiss Army Knife' power source it's almost perfect. The only thing missing is Qi wireless support, but I've 'cooled' (get it?!) a little to this idea during this UK summer, as devices charging wirelessly have been getting very hot when ambient temperatures are consistently over 30ºC. Plus this gadget is less than £30, so expecting Qi as well would have seemed too much.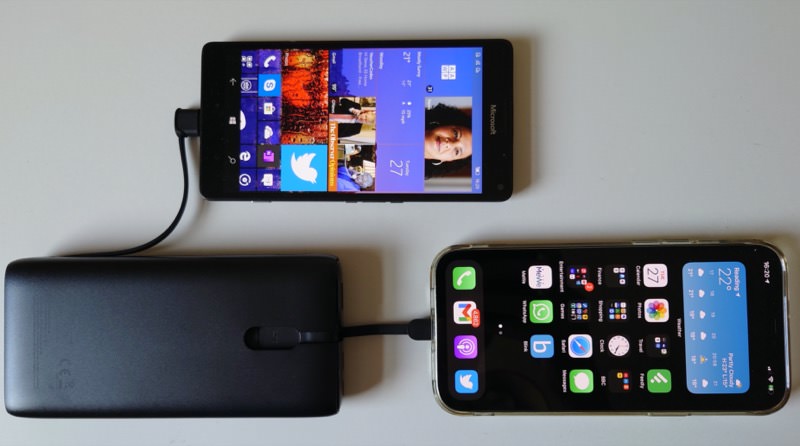 Above, I show the two (unique) flying leads in use, charging a Lumia over Type C and an iPhone over Lightning. You get the idea by now, so let's start diving into what all the different outputs can supply - it's not obvious from the cryptic shorthand on the back of the power bank, but I've done some decrypting and here it all is in plain English:
USB-A port, supplying up to 18W via (up to) Quick Charge 3.0, 5V/3A, 9V/2A, or 12V/1.5A, depending on the chipset and capabilities of what you plug in via its usual USB cable.
USB Type C port, also supplying up to 18W but via Power Delivery (PD) protocols, again depending on the capabilities of what you plug in via a C-to-C cable.
Type C flying lead, with same properties as the Type C port, so PD up to 18W.
Apple Lightning flying lead, supplying 5V/2.4A, so up to 12W.
And in terms of inputs, i.e. charging up the power bank:
Type C: Up to 18W PD.
microUSB: up to 5V/3A (15W), but more likely depending on the output capability of the older charging brick you're using.
For reference, at 18W input, you're looking at a recharge time from empty for the 26,800mAh power bank of around six hours. So an overnight job. But as the accessory will power your family's stuff for an entire weekend, I don't think an overnight refill from a meaty mains (e.g. PD) charger is in any way unusual.
Happily, the icing on the cake here is the digital display. So many other power banks are limited to four LEDs (25%, 50%, etc), it's lovely to have an actual percentage capacity remaining display. If Power Delivery has been triggered in either direction (see our fast charging article for more on this) then you also get green confirmation, as shown below.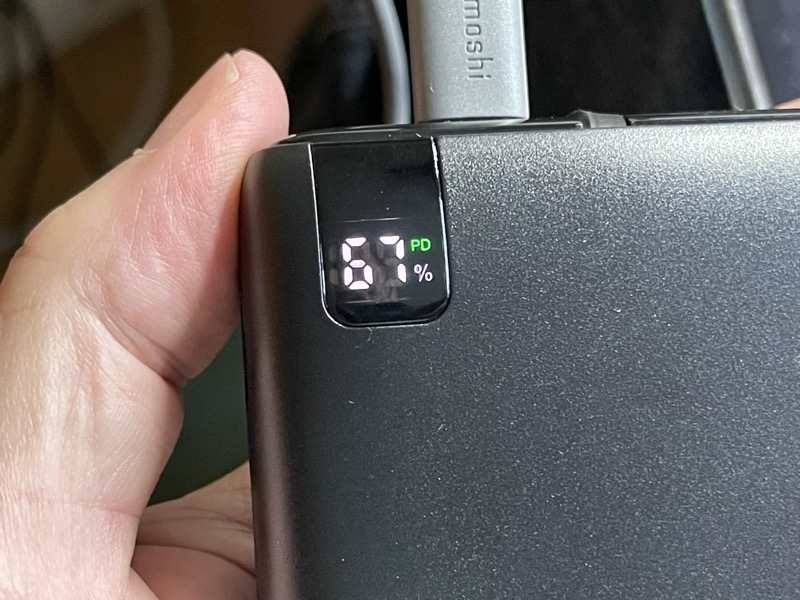 All very impressive then. What about long term availability and support? And it's here that things fall down a little, it seems it's just about impossible to get this with Chinese-made power banks (and almost all of them are). There's a QR code to scan to 'activate your warranty', but this just goes here and is a simple web page that displays 'We have activated your warranty' for everyone! There's a field for you to enter your email address, which I did, presumably for Soaraise (or similar) to have it on file as a possible owner.
But there's zero traceability or serial number registration or similar. And I'll bet that in a year's time this exact model will have vanished from sale, as did the PONSINC and Aenkyo ones I liked so much. You know that old saying "Make hay while the sun shines"? In this context, it's grabbing a gadget that meets your needs while it's actually available. Sigh.
So there we have it - a rather sumptuous power accessory at a very decent price (£30 on Amazon UK), spoiled only slightly by over-glossy end caps and a slightly dubious warranty system (though of course Amazon will step in if things go wrong in the short term). I'm happy overall, and I think you will be too.
Reviewed by Steve Litchfield at