Review:
OsmAnd Offline Maps, Travel & Navigation
Score:
82%
OpenStreetMap has been a 'thing' for a decade, free-to-all mapping data for the world, and now with an open source application available for iOS and Android (and Windows 10 Mobile*). We highlighted it recently in a Flow story, but I did promise a deep dive into what it could do (and what it can't). In summary, it's fast, configurable, and (almost) always free (though admittedly so are Google Maps, Apple Maps and HERE Maps), with real time data being the only major omission. But still worth consideration, especially if you like to go off-piste, as it were.
* there's no official OpenStreetMap client for a legacy platform, of course, but there are tons of third party clients. Start with Outdoor Tracker.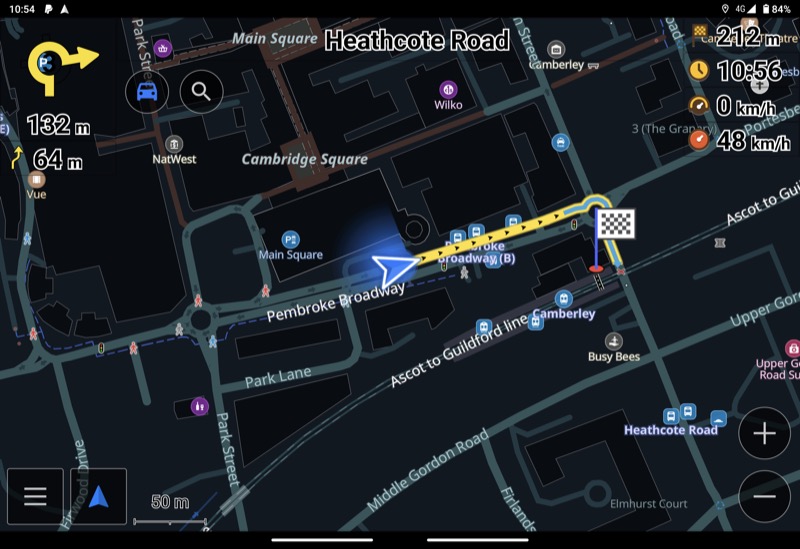 You would have thought that the manufacturer-supplied free maps and navigation would be enough for the market - and they largely are, in terms of cars and roads, but the very (and laudable) existence of OpenStreetMap as a crowd-sourced world map data set lends itself to an alternative that doesn't depend on big companies and their plans for the future.
Which is where OsmAnd comes in, though ironically the very fact that this application is not bank-rolled by a major tech company has led to some small in-app-map purchases, so the 'free' alternative to the also-free big guns in the field is actually not necessarily totally free. Let me explain...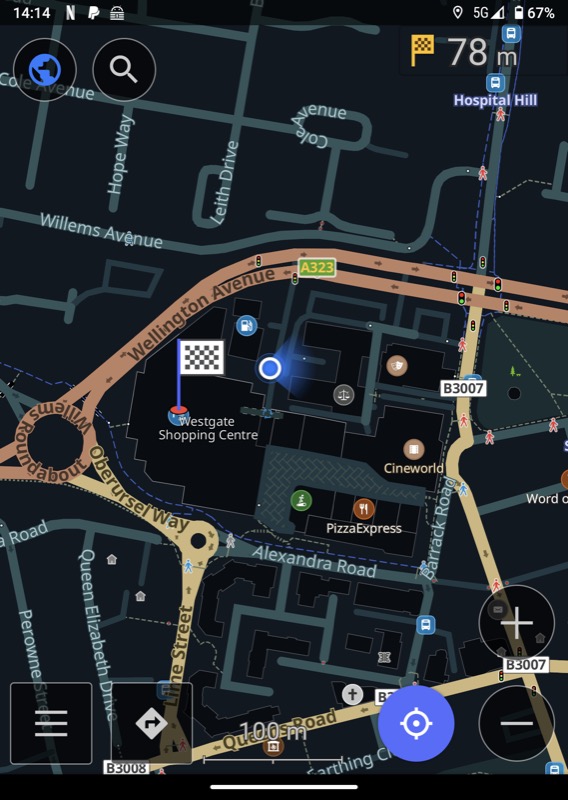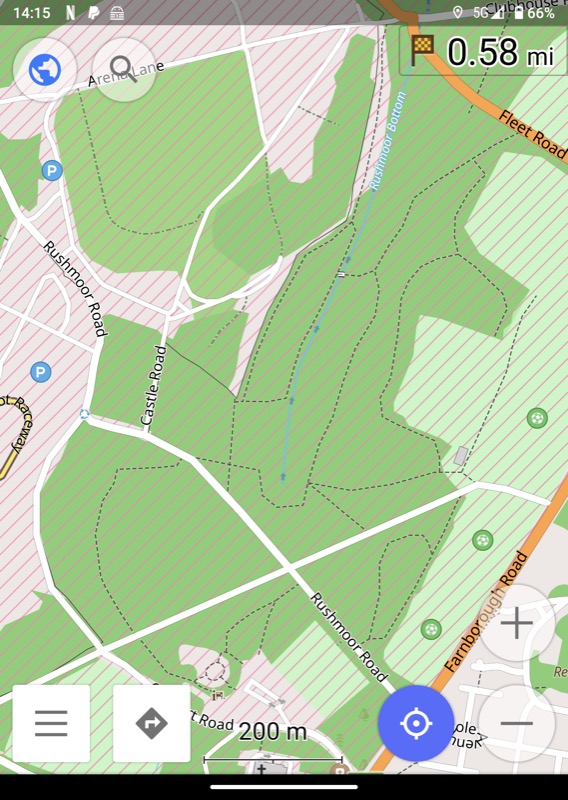 As you might expect, it's the full majesty of the OpenStreetMap data sets, brought to life for Android and for iOS. Everything from footpaths to traffic lights to burger bars to charging stations to banks, it's all here, and pretty well populated for much of the world. Although the base maps are vector-based, OsmAnd 'likes' particular scales, so you can't zoom in and out as precisely as you'd like. But it's ample for most people's needs.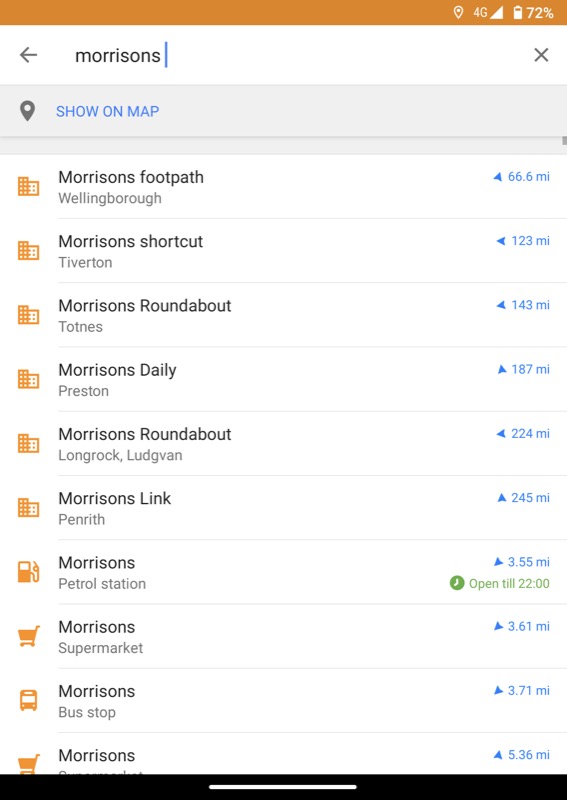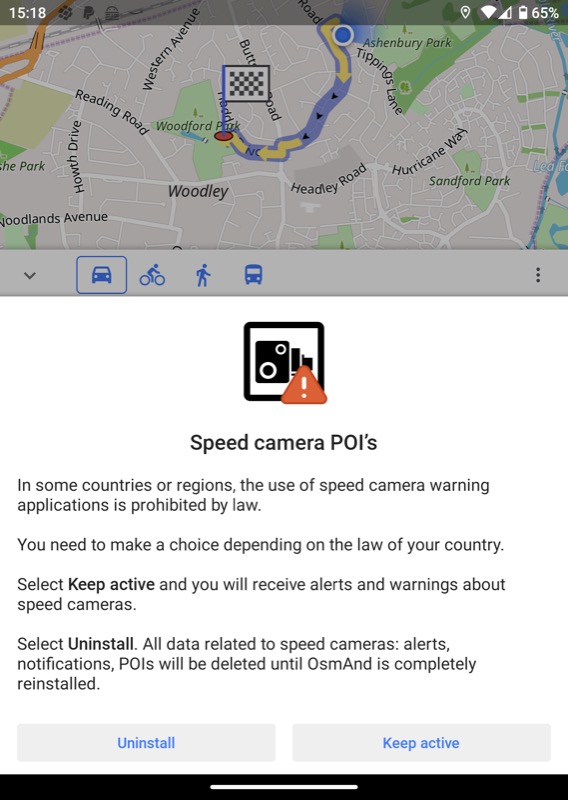 A core feature (as with HERE Maps and, to an extent, Google Maps) is that areas, whole countries, whole continents, can be downloaded for later offline use, for example when you're out in the countryside, miles from a cell tower. OsmAnd shows countries which have already been downloaded in green, as shown in the screenshots below: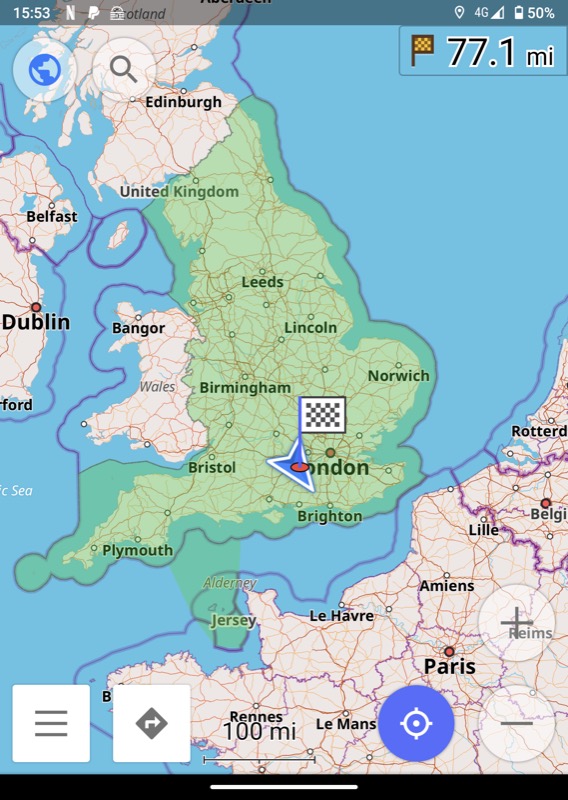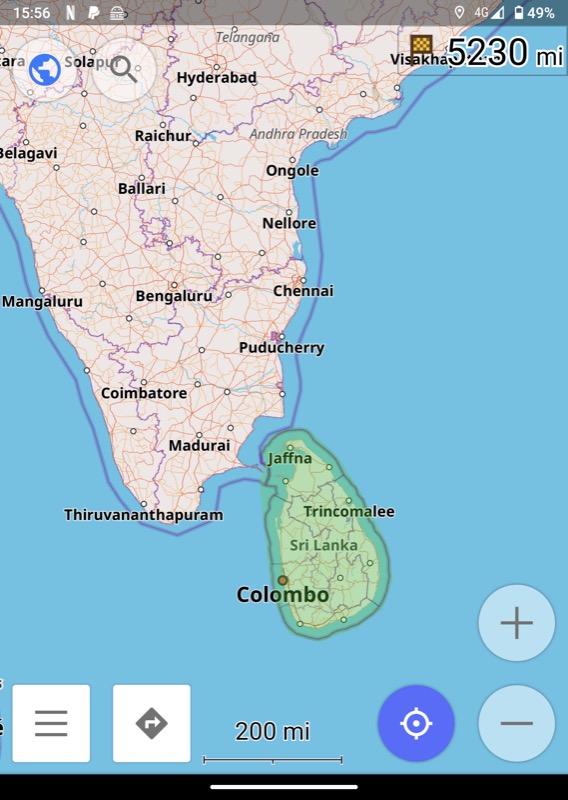 The offline map facility is where the possible in-app-purchases come in, with the free version (enough for most people) allowing five downloads (of an area, a country, or a map overlay, e.g. slopes/contours), after which you have to upgrade to 'Maps+', though at £5 for a year for unlimited downloads (£10/year afterwards) it's very cheap in the grand scale of things and a subscription could be considered you merely chipping in to support development and 'doing your bit' to support a worthwhile project and application: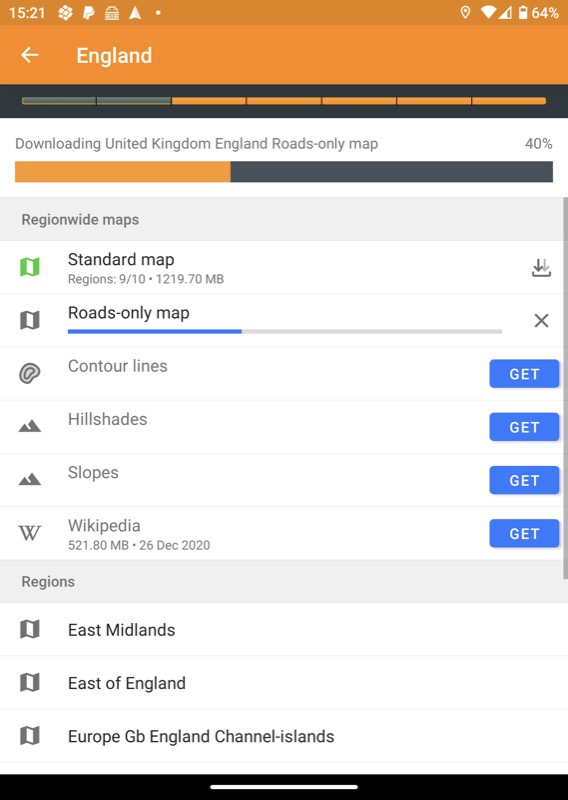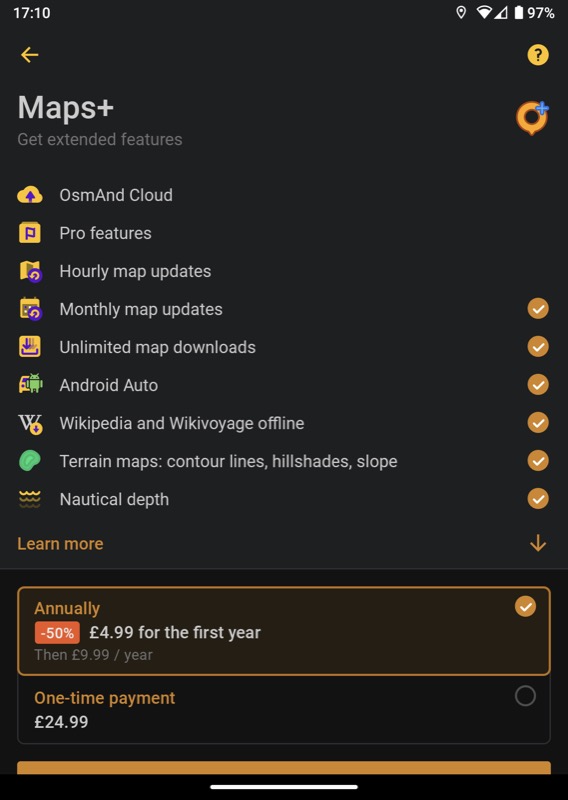 I tested this on a few journeys around the Uk and, for in-car navigation, with a mobile data connection, Google Maps was massively better - the latter is a modern wonder of the world in terms of real time crowd-sourced traffic awareness and streamlined interface, with Assistant, of course. Apple Maps is almost as good on iOS.
But the strengths of OsmAnd and OpenStreetMap are in full offline operation, relying just on a phone's GPS. And coming along in the offline data are details and features, for example off-road, that just aren't represented in Google and Apple's data sets. While HERE Maps, covered elsewhere, is a compromise between the two extremes and also a good option.
The good news, of course, is that none of these mapping applications are mutually exclusive. So, for example, it's easy to have an Android phone (like my Duo 2) with Google Maps built-in and perhaps some country areas pre-cached, but then also have OsmAnd installed just in case I need to explore country lanes and hiking paths. With storage in modern devices up in the hundreds of GB, it's no longer necessary to hold back on map data - just cache or download whatever you want.
A review is normally here to advise whether to buy something or not, but in this case 'OsmAnd Offline Maps, Travel & Navigation' (yes, yes, a bit of a mouthful) is a free download, so just try it for yourself and make up your own mind.
Reviewed by Steve Litchfield at