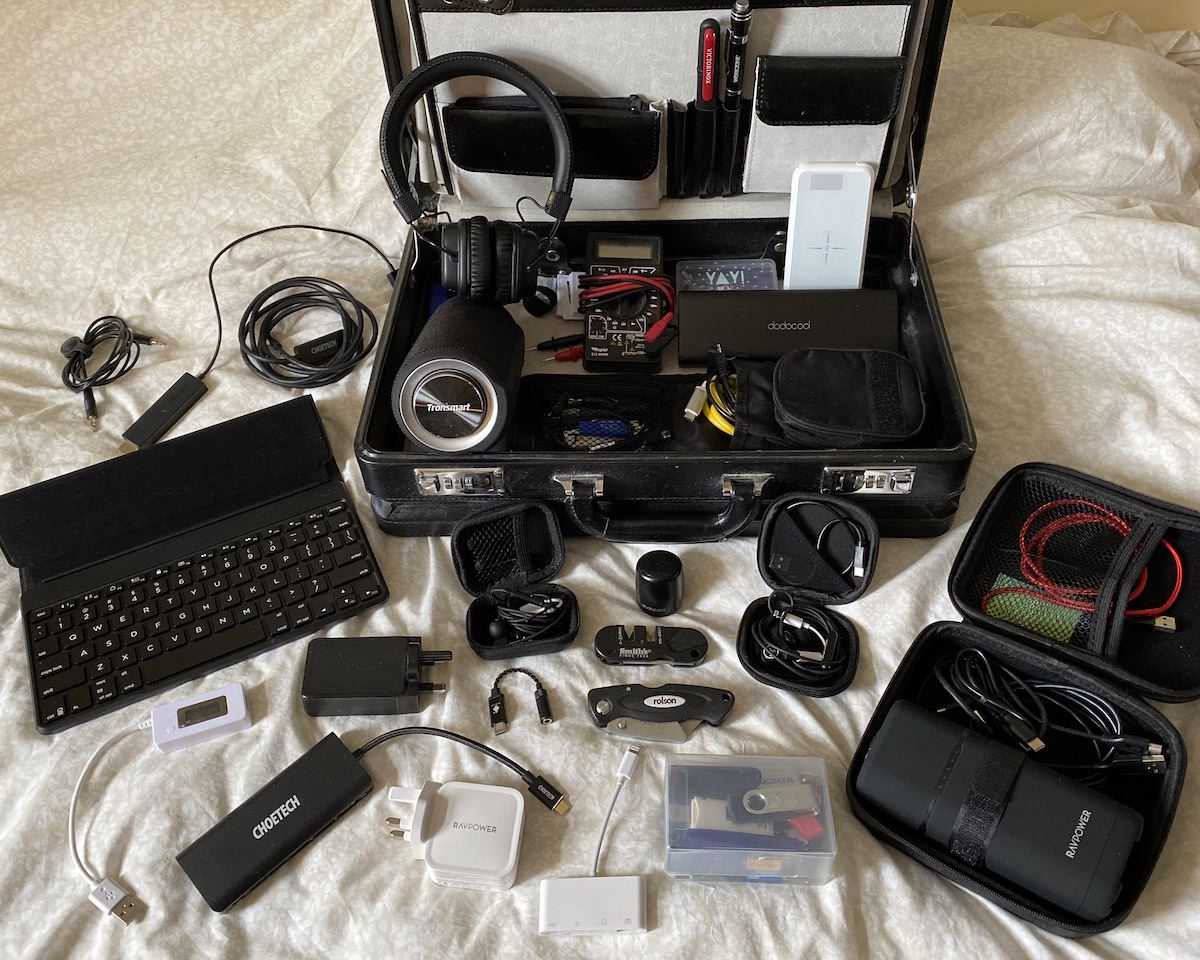 (Image from my most recent gadget bag write-up, and which is already significantly out of date!)
You'll, of course, have your own favourite accessories, but here goes with the items I've reviewed since 2015 and their current status!
NB: in numerous cases, brands (Choetech, Tronsmart, TaoTronics, RavPower, dodoCool, and others) have been hit with bans from Amazon because of various 'dodgy' practices, sadly, so I've tried to link to their manufacturer's home/product page. I should note that at no stage have we been part of a 'dodgy' review, but I do recognise that vouchers in boxes and 'free for five star reviews on Amazon', and so on, have been employed for some products and I understand Amazon's stance. It's just a shame in most cases, since these are decent products that have been made harder to get because of over-zealous Asian marketeers. 8-( So, rather than buying from our local Amazon, we now have to order from the other side of the planet and wait weeks. Gah.
NB2: where I state that I gave something away, I'm usually referring to the weekly giveaways from my Phones Show Chat podcast(!)
Accessory
Reviewed in
Still in use?
Still for sale?
dodocool DP13 45W Type C PD
2018
Yes, always in my briefcase to this day. Sleek, metal, powerful.
Sadly no
ZAGG Flex Universal keyboard
2018
Yes, still my favourite Bluetooth keyboard EVER.
Yes, via ZAGG
Monoprice Triple XXX Driver Earbuds

2019
Still my favourite budget wired in-ears. When my ears can take them!
Sadly no
Powstro USB 'Windows Hello' Multi Fingerprint Reader

2019
Yes, plugged into the USB port of my original Surface Pro.
Yes, from Amazon
HIDIZS Sonata HD Mk II

2019
Yes, whenever I need audio from any Type C-only smartphone (e.g. Samsung)
Sadly no, though see other options here
T5 Ultra Connect Bluetooth heaphones

2019
Yes, though my ears have been getting a little sore from in-canal use, so I've switched mostly to on-ear Marshalls (see below).
Yes, from Amazon
Tribit MaxSound Plus 24W

2019
Since superceded by even better speakers, but it's still terrific and, crucially, not affected by Amazon's brand ban...
Yes, from Amazon
Choetech T521/S - 10W Fast Wireless Car Charger Mount

2019
Daily, it's in my car right now, wirelessly charging everything that's clamped inside it.
Yes, from Choetech
Choetech SC001 19W Solar Charger

2019
Occasionally, see my solar charging feature.
Yes, from Choetech
Tronsmart PB20

2019
In my power bank rotation, still very solid.
Yes, from GeekBuying
Tronsmart Element T6 Plus
2019
Daily, super sound for modest bulk.
Yes, from Amazon
TaoTronics 'True Wireless' SoundLiberty 53 Earbuds

2019
No, I've never really got on with any TWS earbuds. Sorry. Might be me. Gave them away.

Yes, from TaoTronics
Choetech T555-F Fast Wireless Charging Stand

2019
Yes, by a friend. I gave it away to someone in need!
Yes, from Choetech
Tranya Rimor True Wireless Earbuds

2019
No, I've never really got on with any TWS earbuds. Sorry. Might be me. Gave them away.

Sadly no
ROMOSS 'Sense 8+' 26800(+)mAh, 18W power bank

2020
Part of my 'car kit', a system of 12V to power bank 'cache' to smartphones and Surface hybrid. (photo below)

Yes, from Amazon
RAVPower PD Pioneer 20000 AC

2020
Part of my 'car kit', a system of 12V to power bank to (as a last resort) mains, if needed!
Sadly no
Realme Buds Q
2020
No, I've never really got on with any TWS earbuds. Sorry. Might be me. Gave them away.
Yes, from Amazon
Tribit QuietPlus 72 Type C-charging ANC headphones

2020
No, these got usurped by my favourite Marshalls. But still a decent option. Gave them away.
Yes, from Amazon
Vava 12-in-1 USB Type C Docking Station

2020
Fortnightly, I have this set up for my Surface Go as a 'hot desk' system at my dad's house

Sadly no, but there are plenty of similar docks on Amazon
RAVPower 65W PD 'Pioneer' 4-port desktop charger

2020
Fortnightly, I have this plugged in as part of a charging 'dock' system at my dad's house
Yes, though rebranded, on Amazon
Aenkyo (/PONSINC) 'Air Wireless' 10000mAh power bank

2020
Daily, one of the most useful charging gadgets I own, I have two!
Sadly no
Olixar 18W USB Type C adapter
2020
In use around the house
Yes, from MobileFun
Apple 20W USB Type C folding adapter
2020
Daily, and when travelling
Yes, from Apple
NexDock Touch

2020
As needed, still a really interesting mobile work option.
No, due to component sourcing issues
Choetech 10000mAh 2-in-1 Wireless Charger

2020
Weekly, as needed. I particularly like the Qi charging through the top surface
Yes, from Choetech
Tronsmart Mega Pro 60W 10000mAh Bluetooth

2020
Always in my current 'large' gadget bag, which goes with me on trips. (photo below)
Yes, from Amazon
Gaston Luga Praper laptop backpack

2021
Not used currently, awaiting a gadget bag overhaul!
Yes, from Gaston Luga
Marshall Major IV Bluetooth
2021
Daily, best audio product I ever owned
Yes, from Amazon
Moshi Sette Q 'twin 15W' Qi charger

2021
Daily, on my desk!
Yes, from Moshi
Tegic 4-in-1 Type C/Lightning/USB-A multi-cable

2021
Daily, on various phones/gadgets
Yes, from Tegic
Tegic 'BLOCK 30' power bank

2021
Weekly, as needed
Yes, from Tegic
Soaraise flying lead power bank
2021
Daily, so convenient never having to look for leads(!)
Yes, from Amazon
It's a shame that Amazon's latest updates have split apart the links in the original reviews, but hopefully my recommended links above will help you track something down after you've read my review text in each case.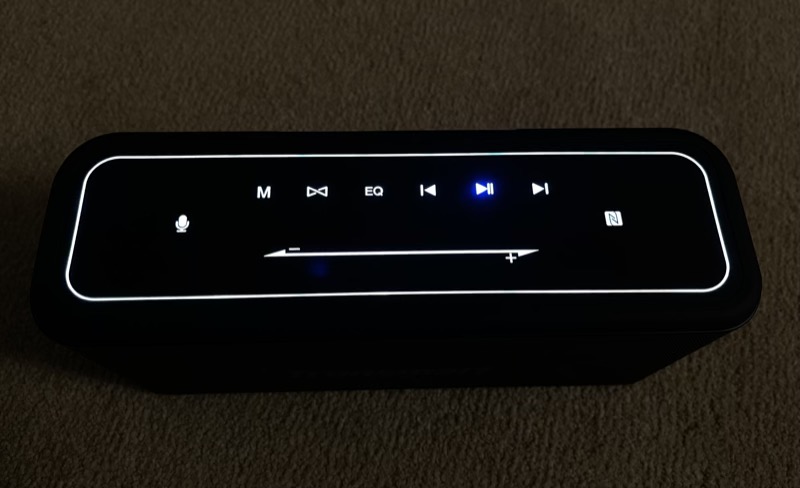 As ever, comments welcome - do you have a couple of favourite accessories that you couldn't do without? And, yes, I'll be updating my own 'gadget bag' feature soon as part of a summer holiday 'spring clean' (ahem)...